Heavy duty range cooker baking sheet (for AGA style ranges)
Accessories
Shropshire made black iron range cooker baking sheet
Fits directly onto the runners of full size oven AGA range cookers ®
Developed with Val Stones, star of The Great British Bake Off 2016.
Heavy duty, 2mm thick black iron sheet.
Perfect for biscuits, breads, pastries and much more.
Pre-seasoned with flax oil for a natural non-stick finish
Durable 99.1% pure black iron with a brass Netherton branded rivet
Heavy duty and thick sided, for superb, even baking.
Can be used in very hot ovens, safe up to at least 300ºC (572ºF).
Large 3/4" stepped rim to assist lifting out of the oven when wearing oven gloves.
When you buy this baking sheet we donate £2.00 to the MS society.
Val and Netherton Foundry will each donate £1 from every sale of this product (purchased on this website) to one of Val's favourite charity:
MS Society
, the UK's biggest multiple sclerosis charity.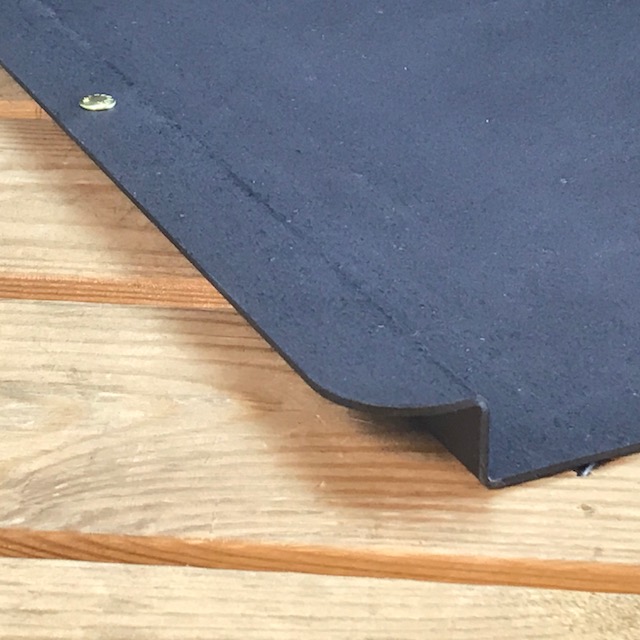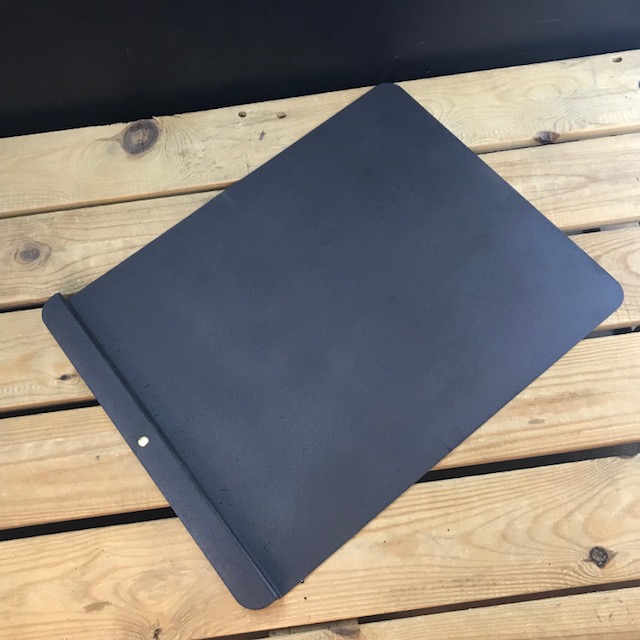 How we developed the original heavy duty baking sheet with Val.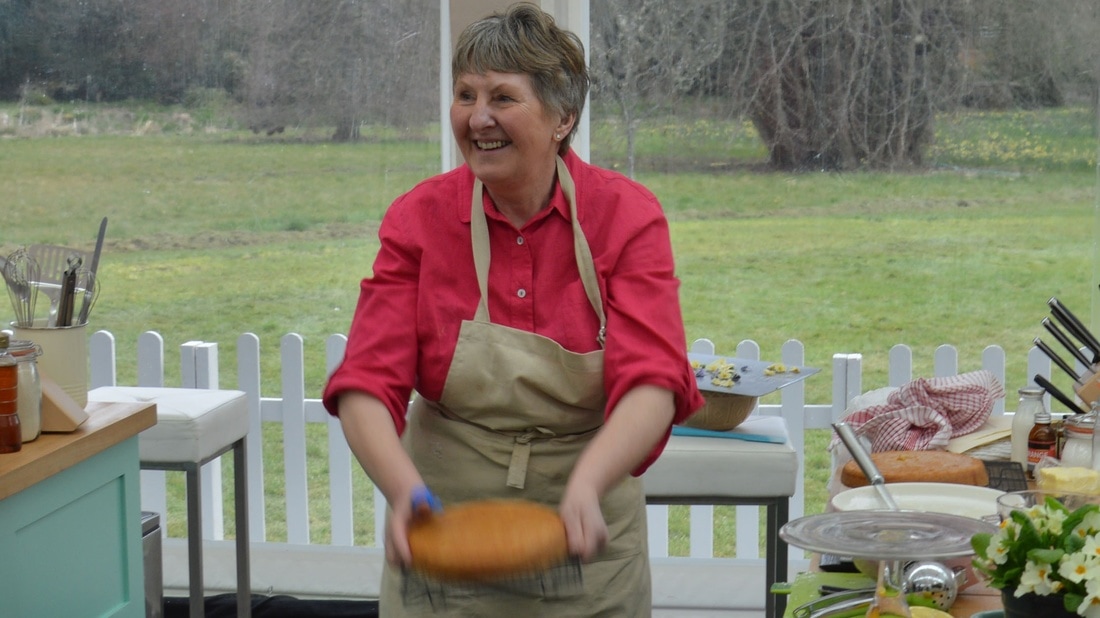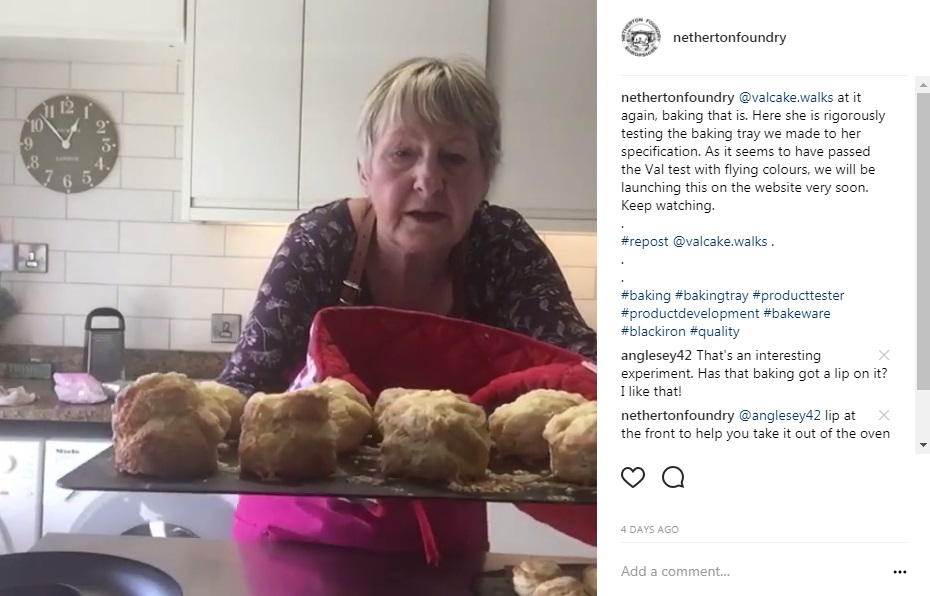 At the Ludlow Food Festival.In September 2017, Netherton foundry met VAL STONES, the cake whisperer.
Val told us about an idea she had for a heavy duty baking sheet that would stay flat in a hot oven and have a bit of thermal clout to ensure well cooked bases.
Also she felt strongly that many existing baking sheets are very difficult to get hold of when using oven gloves.
At Netherton we always relish a challenge, so we set about producing a baking sheet that would meet her requirements.
Sue from Netherton tested the first model with the shortbread biscuits seen here and then Val got to use the working prototype in late September and sent us an Instagram "thumbs up" video.
See Val's successful first bake with the Black Iron Baking Sheet.
Click arrow on picture to watch video.
Range cooker baking sheet dimensions:
Weight 4lb 8oz (1.9kg), Width 34.2cm, Depth 44cm, Height of rim 2cm, 2mm thick sheet.
Fits directly on the runners of full size oven Aga range cookers ®,
for other makes of range cooker we suggest you measure the width and depth of your oven before purchasing.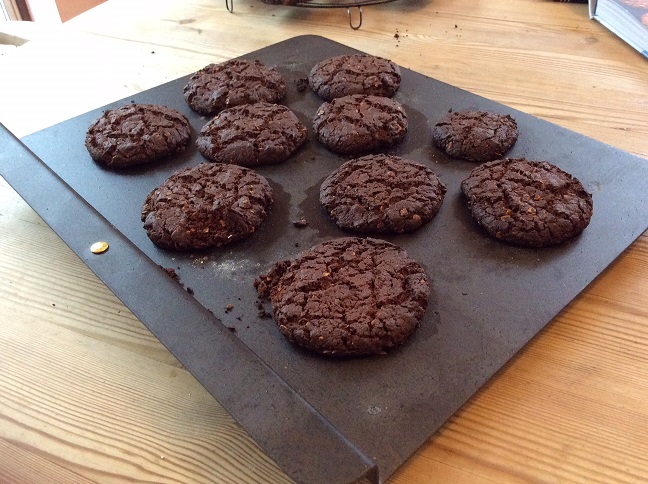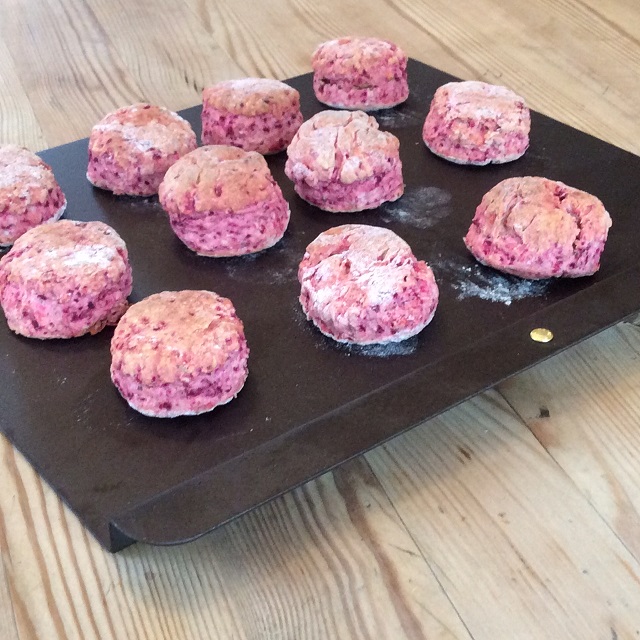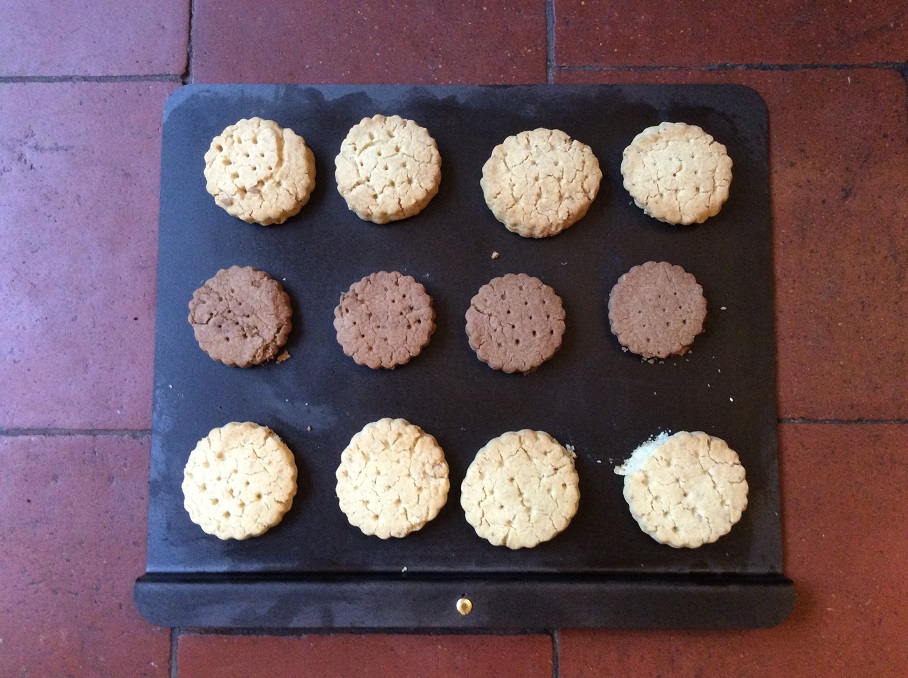 Why choose a pre- seasoned baking sheet ?
The edible Sussex flax oil coating is easy to wash & naturally non-stick.
It is ready for immediate use.
No chemicals or PTFE are used in the coating of the baking sheet.
Coating can be simply restored at home, time after time.
Why use an Iron Cookware?
Iron cookware is tough and can be used at very high temperatures.
This iron baking sheet is suitable for all types of ovens.
Iron is a pure, simple metal which is easy to look after & very recyclable.

Netherton Foundry, Shropshire, England. A family business crafting traditional cookware in Highley, Shropshire from iron, oak and copper,using materials predominantly sourced in our own and neighbouring counties. Copyright 2021.
Tags: Baking