Baking sheet recipes
Lemon and cardamom shortbread biscuits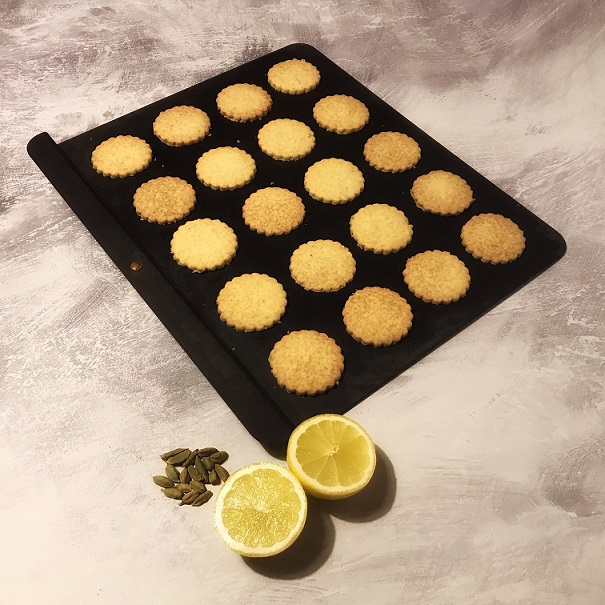 The quantities given here will make about 30 biscuits, but as long as you stick to the ratio, you can use ounces, grams, cans of beans or sacks of potatoes depending on how many biscuits you want to make.
2oz sugar
4oz butter, cubed
2oz cornflour
4oz plain flour
Grated rind of a lemon
Crushed seeds from 6 green cardamom pods
To make these in a food processor, simply chuck everything in and mix together until combined to a stiff dough.
Alternatively, rub the butter into the flours until it all resembles fine breadcrumbs. Add the rest of the ingredients and mix well. Then knead into a ball of dough.
Roll out to a thickness of 2mm on a floured surface and cut into rounds (I used a 5½cm cutter and made 30 biscuits).
Spread them out evenly on a
baking sheet
and place in the oven.
They will be ready in 15 - 20 minutes, but please, please keep an eye on them. Although they will be pale in colour and feel soft to the touch, they WILL be cooked.
Remove from the oven at the first sign that they are browning!
Transfer to a cooling rack and they will crisp up beautifully as they cool.
---
As simple as 123

There is nothing easier than a classic shortbread: 1 measure of sugar, 2 measures of butter, 3 measures of plain flour
Do-re-mi, ABC, simple as 123 (apologies for the Jackson 5 earworm)
60g sugar
120g butter
30g Greek yogurt
120g plain flour
60g rice flour
Pre-heat the oven to 170ºC
Cut the cold butter into cubes and rub into the flours until you have a breadcrumb like consistency. Add the sugar and yogurt and bring the whole lot together to a piable dough.
Turn out onto to a floured board and roll out to the thickness of a pound coin (or euro)
Place on a
heavy duty baking sheet
and place in the oven.
Cook for around 25 minutes until just starting to colour.
Remove from the oven and transfer to a wire cooling rack.
We ate ours with some oven roasted rhubarb and thick, homemade custard.
---
Chicken dinner sausage rolls
Chuck in some chips and peas and there you have it; winner, winner, chicken dinner.
Start by soaking
10g dried mushrooms
in
250ml hot water
- we'll come back to these later, but you will need an intensely flavoured, brown stock.
150g breadcrumbs
Grated rind of a lemon
2 banana shallots, finely chopped
2 heaped teaspoons fresh thyme (or 1 tsp dried thyme)
A handful of chopped parsley
2 eggs
250g cooked chicken, chopped into small pieces
Salt and pepper to taste
Heat a little rapeseed oil in a
frying pan
. As usual we used
Bennett and Dunn's oil.
Locally grown and pressed.
Gently fry shallots over a low heat until soft.
And before you come over all "it's alright for you but where I am I supposed to get banana shallots?" I got mine from Lidl and if you can't find just use a small onion instead.
Combine with all the other ingredients and set aside while you make the pastry.
But first, turn on the oven to heat it to 200ºC
I've got a bit creative here, but you could just as well make your favourite pastry recipe or use a ready made short crust or flaky pastry.
100g plain flour
100g rye flour
100g cold butter
1 tblsp poppy seeds
125ml buttermilk
Pinch of salt
Combine the flours in a bowl and add the salt.
Chop the butter into small pieces and rub it into the flours until the whole lot looks like fine breadcrumbs.
Is there any other way in which this stage of pastry making is ever described?
Add the poppy seeds and stir to distribute them evenly.
Pour in the buttermilk and bring the mixture together to form a stiff dough.
Turn out on to a floured surface and roll into a rough rectangle, approximately 25cm wide by 50 cm long
Brush one long edge with water to form a seal.
Place chicken mix in a long sausage shape along the pastry
and carefully roll up along the long edge, bringing the dry side down onto the moistened edge
.
Cut into even pieces - I made 16, but you can make fewer, bigger rolls if you prefer.
Place the rolls on a
heavy duty baking sheet
and put into the oven
Bake at 200º for 20 minutes.
While they cook, prepare the gravy.
Melt
50g butter
in a
saucepan
and add
1 finely chopped field mushroom
or a
couple of button mushroom
s.
Cook until the mushrooms are soft.
Add
20g plain flou
r and cook, stirring continuously for 2 minutes.
Add the mushroom stock that you prepared, Blue peter fashion, earlier and stir well to incorporate it and remove any limps.
You can add
a good splash of sherry or vermouth
at this stage if you wish and, if it's in season, a handful of
chopped wild garlic
.
Cook over a low heat for at least 5 minutes.
Serve alongside the chicken and stuffing rolls, with a big bowl of home made chips and a mountain of peas.
---
Netherton Foundry, Shropshire made black iron baking sheets
Developed with Val Stones, star of The Great British Bake Off 2016.
Heavy duty, 2mm thick black iron sheet.
Perfect for biscuits, breads, pastries and much more.
Pre-seasoned with flax oil for a natural non-stick finish
Durable 99.1% pure black iron with a brass Netherton branded rivet
Heavy duty and thick sided, for superb, even baking.
Can be used in very hot ovens, safe up to at least 300ºC (572ºF).
Large 3/4" stepped rim to assist lifting out of the oven when wearing oven gloves.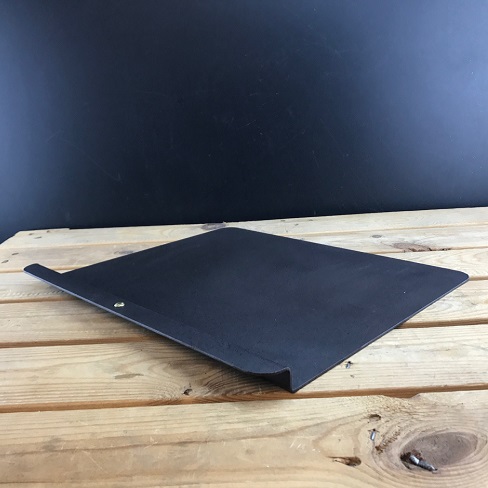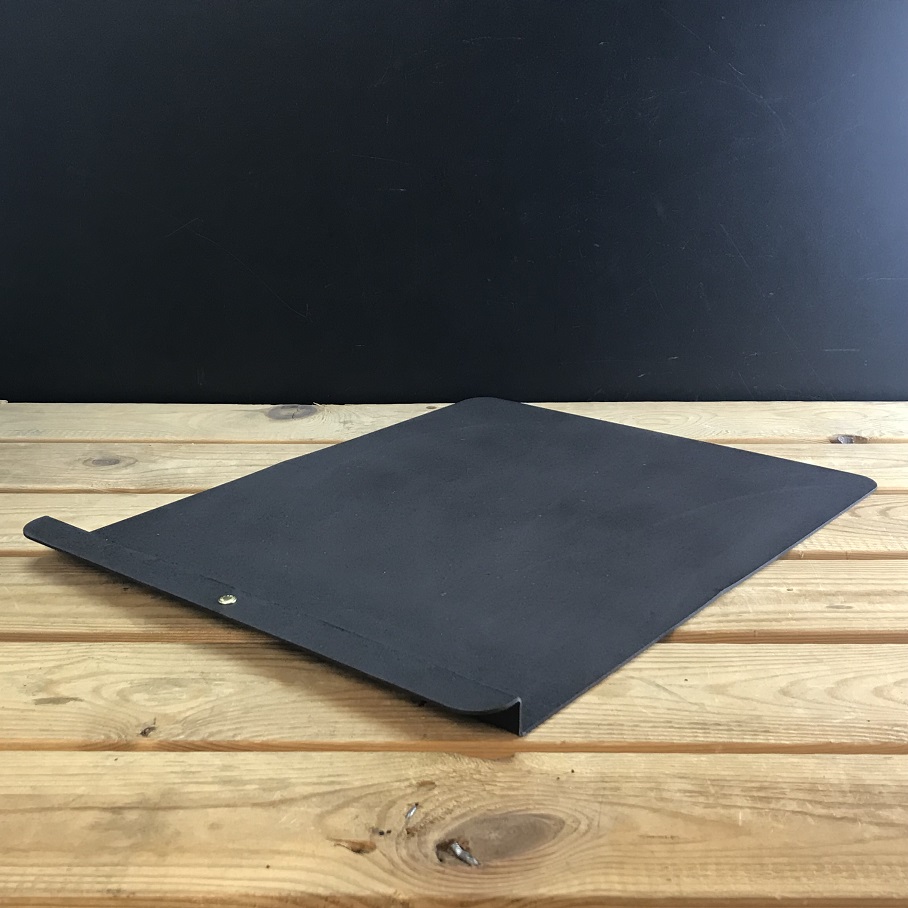 ---