Iron and copper frying & Prospector pans recipes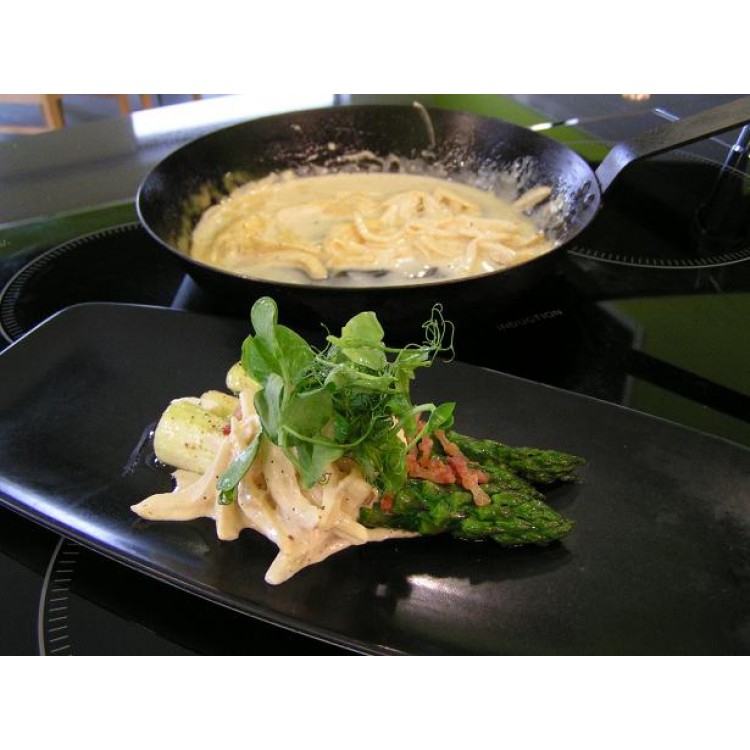 "After a good dinner one can forgive anybody,
even one's own relations."
Oscar Wilde, A Woman of No Importance.
Stuart Collins X Netherton Foundry Shakshuka recipe
Chef Stuart Collins shows how to prepare and cook the classic breakfast dish, Shakshuka. Onions, garlic, peppers, tomatoes, eggs fried in a Netherton Foundry
8 inch copper Prospector pan
. Quick, simple, tasty and all done in 10 minutes.
Stuart's hake en papillote recipe
From the kitchen cupboard
This served 2 hungry souls, after a long day at the workshops
.
Heat a large pan full of salted water and chuck in as much pasta as you can eat.
Leave it cooking while you get on with the rest of this.

There are few other measurements, make it up as you go along, adjusting and improvising to suit taste and appetite

Rapeseed oil
Cauliflower, cut into small florets
Raisins
Onions, sliced
Hazelnuts, chopped
Breadcrumbs, sprinkled with a glug of oil and baked in a moderate oven
Capers
Parmesan
Parsley, chopped.

Put a generous splash of rapeseed oil in a prospector or frying pan
Warm over a moderate heat.
Add the onions and cook until soft and translucent, then add the cauliflower.
Continue cooking until the cauliflower starts to take on a little colour.
Add the raisins and 1 tablespoon of the pasta cooking water.
Cook for 5 minutes to allow the raisins to plump up and the liquid evaporate.
Add the hazelnuts and cook for another 2-3 minutes.

Drain the pasta.
Stir into the cauliflower mix along with the capers.
Scatter the parsley, Parmesan and breadcrumbs over the top and eat immediately.
---
In and out of the kitchen
I noticed we had some slightly wrinkly apples in the fruit bowl, bought in expectation and abandonned when their taste did not match their looks.
So with the brevity of Damien Trench in the Radio 4 classic, "In and Out of the Kitchen"; recipe:
Pour 250ml full fat milk into a saucepan and add 4 cloves. Bring to the boil, turn off the heat and leave for an hour for the flavour of the cloves to infuse into the milk.

Take 4 apples, peel core and quarter.
Melt 50g butter in a 10" prospector pan over a low heat and then add 120g sugar.
Cook continuously until it turns golden brown.
Add the apple slices, cover and cook for 10 minutes until the apples have softened and taken on some of the caramel colour.
Remove the lid and increase the heat. Cook until the caramel has turned a rich mahogany and most of the juice has evaporated.

Pre-heat the oven to 170ºC

Remove the cloves from the milk and return the pan to the hob. Heat gently.
Beat in 50g buckwheat flour, a teaspoon of vanilla extract and 100g sugar. Add 2 beaten eggs and mix vigorously.
Pour over the apples and pop it into the oven. Cook for 20 - 25 minutes until the top is firm.
Remove from the oven and leave to stand for 10 minutes.
Invert on to a serving plate and serve with clotted cream.
NB because I have used buckwheat flour, this pudding is gluten free.
---
Treacle tart
A little of this treacle and nut tart is all you need to feel good; it contains gluten, dairy, nuts and a ton of calories and boy, do they taste good!
Felicity Cloake has written rapturously and with far more research than me on this topic and her recipe does sound delicious.
https://www.theguardian.com/lifeandstyle/wordofmouth/2014/feb/13/how-to-cook-perfect-treacle-tart
It is not an everyday dessert and it is also old fashioned; one of those nostalgic memories of puddings past that people like Jeremy Lee and Fergus Henderson have been reviving - as seen mentioned in this month's BBC Good Food magazine.
But every once in a while, this gooey, sweet delight will stick crumbs and smiles to your lips.

Start by making some shortcrust pastry with 120g plain flour and 60g butter.
Roll out and line a 10¼" shallow prospector pan.

Place in the fridge while the oven heats up to 200ºC
Put the pan into the pre-heated oven and cook the pastry case for no more than 10 minutes.
Turn the oven down to 170ºC
Coarsely chop 50g of mixed nuts (or just use your favourite).
Weigh out 80g of sourdough bread, crusts removed, and process into crumbs.
Grate the rinds of 2 oranges
Put 300g of golden syrup in a large saucepan and heat gently until runny.
Stir in the breadcrumbs, nuts and orange zest and mix thoroughly.
Pour this mixture into the pastry case and spread evenly.
Put the pan back into the oven and bake for 20 minutes.

When you remove the tart from the oven, the filling will be bubbling like lava on the rim of Vesuvius, so take care.
Allow to cool and serve at room temperature with custard or clotted cream.

Serves 8
---
Oven cooked frying pizza by Ed Smith ( Instagram @rocketand squash)
We saw this instagram conversation in June 2018 between food writer Ed Smith and a few food enthusiasts on his very popular
Rocket and Squash
account. We thought it was well worth preserving for posterity as it's a great way to produce a "nearly" wood fired pizza. We reckon he was using and
8 inch oven safe frying pan
but a
8 inch prospector pan
would work equally well.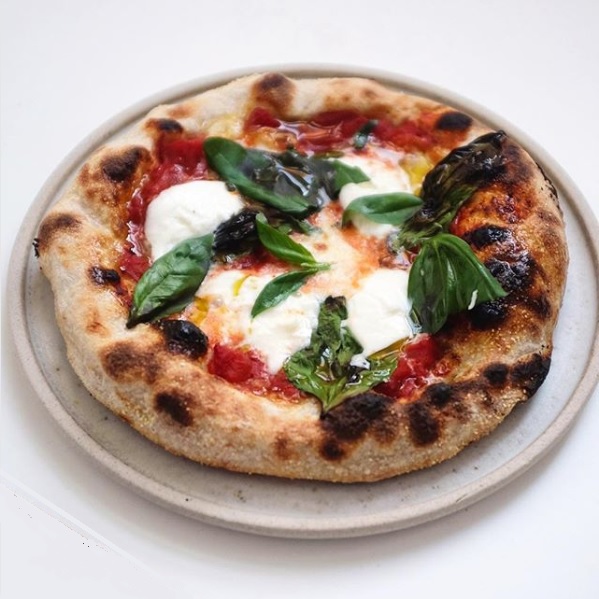 Kid Shank, Apricot and Pistachio Tagine : a recipe from Goat by James Whetlor
There was always going to be a tagine in this book. Adding the sweetness of dried fruit to
the depth and richness of kid meat creates a dish that is one of the greats of world food.
I always have a jar of ras al hanout in the kitchen – it's a really useful seasoning. You can
also use 800g/1.lb diced kid here in place of the shanks. Serve with harissa
and couscous.
Serves 4
4 kid shanks
2 tomatoes, roughly chopped
2 onions, finely chopped
3 garlic cloves, finely chopped
60g/¼ cup butter, melted
1 teaspoon cumin seeds, toasted and ground
2 teaspoons ras al hanout spice blend
½ teaspoon ground turmeric
400ml/generous
1½ cups stock or water
10 saffron strands, soaked in warm water for 10 minutes
small bunch of coriander (cilantro), leaves chopped, stalks reserved
150g/5oz dried apricots, roughly chopped
1 medium preserved lemon, rind only (discard the pulp), roughly chopped
50g/1¾oz pistachios, roughly chopped honey, to taste
salt and freshly ground black pepper
small bunch of mint, leaves picked, to serve
Mix together the shanks, tomatoes, onions, garlic, melted butter, spices (apart from the saffron), 1 teaspoon salt and ½ teaspoon pepper. Cover and refrigerate for a few hours or overnight.
When ready to cook, put the marinated meat in a large saucepan and cook, uncovered, over a moderate heat for 20 minutes until a sauce has formed and thickened.
Add the stock or water, along with the saffron and its soaking water, the
coriander (cilantro) stalks, dried apricots and the preserved lemon, then cover
and simmer gently over a low heat for about 2 hours or until the meat is completely tender. Top with a little water if it dries out.
When the shanks are cooked, remove any excess fat from the sauce and add the pistachios, then the honey with salt and pepper to taste. Serve scattered with the coriander and mint leaves.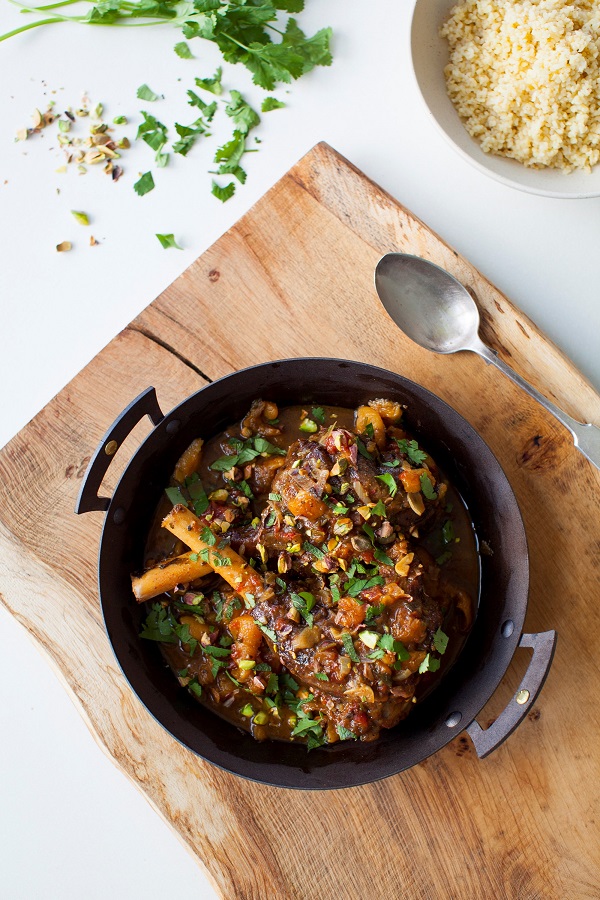 Photo by Mike Lusmore from the 2018 book Goat Cooking and eating by James Whetlor
James Whetlor founded
Cabrito
after keeping a few goats to solve a land management problem.
He was cooking at River Cottage at the time and a few of the goats ended up on the menu.
After seeing how well the kids sold, James thought perhaps there was a market for kid goat meat. Turns out there was.
Cashew and Halloumi rissole
1 onion, peeled and finely chopped
½ butternut squash, peeled and chopped into ½" chunks
75g chopped roasted cashews
100g breadcrumbs
1 block Halloumi, grated
Salt and pepper to taste
2 eggs

Place a Netherton Foundry crepe pan on the hob and gently heat 1 tblsp oil.
Fry onion and squash until soft.
Remove from heat. Place all the other ingredients into a mixing bowl, then add the onions and squash.
Stir well to mix.
Season to taste - Halloumi is quite a salty cheese and if you are also using salted cashews, make sure you taste the mixture before adding additional salt.
A handful of chopped fresh herbs will give this dish some extra zing - try parsley, thyme or mint.
Leave for 20 minutes for breadcrumbs to absorb the egg
Replace the crepe pan on the hob, add 1 tblsp oil and turn the heat to medium.
Add all of the mixture to the pan and spread out evenly. Press down with the back of a wooden spoon.
Cook for around 7 minutes until the underside is browned and the "cake" holds together.
Place a large plate or serving board over the pan, invert and turn out the cake.
Slide back into the pan, cooked side upper most.
Continue cooking for another 7-10 minutes until the underside is cooked..
Slide out onto a plate and cut into slices.
Serve with greens, tomato sauce and, if you fancy, real chips!
Carrot and cashew burgers
A tasty little treat which makes a change from beef burgers.
These are great served as burgers in a roll with ketchup, but equally good made into little balls & served cold in pitta bread with salad and a yogurt and mint dip.
3 thick slices bread - crumbed
1 onion, finely chopped
75g salted cashews, chopped
2 tblsp fresh coriander, chopped
4 large carrots, finely grated
2 eggs, beaten
Splash soy sauce
2 tsp ground cumin
1" ginger, peeled and finely grated
Sesame seeds
Oil for frying

Mix together all the ingredients except the sesame seeds. Mould into 12 burgers and roll in sesame seeds.
Chill in the fridge for an hour.
Heat the oil over a medium heat in a Netherton foundry 12" frying pan, this will accommodate all of them, otherwise do them in batches and keep warm.
Fry until brown and crispy and warmed right through.
Not only good with yougurt, but also mango chutney, ketchup or mayonnaise.
---
---
Pan seared pork on a bed of leeks and black pudding
This is a short video from our friend Phil Leverington, aka the Demo Chef.
Phil prepares and cooks p
an seared pork on a bed of leeks and black pudding using just one knife, one pan and one dish !
He's using our 10" frying pan and cooking iron:
---
The following three recipes were entries in our February 2014 competition to win a
Netherton Foundry 10" Oven Safe Crepe Pan.
Lucy from Liverpools' winning recipe:
Túrós Palacsinta (Hungarian sweet cheese stuffed pancakes)
3 eggs 6 tbsp flour
4 tsp sugar 1/4 tsp salt
250ml milk butter
Mix eggs, flour, sugar & salt together and then whisk in the milk to
make a smooth batter. Melt butter in your crepe pan and make pancakes - about 12
Filling:
225 g of cream cheese 6 tbsp light brown sugar
50g butter, softened 2 tsp grated lemon zest
50g raisins, presoaked for an hour (or overnight) in rum
250ml single cream
Icing sugar
Mix together the cream cheese, butter, sugar, lemon zest & raisins. Spread the mixture into the centre of the pancakes and roll them up,
folding in the ends. Lay them in a single layer in a buttered oven proof dish. Pour over the cream and bake at 350F/ 170C for 10 minutes until heated through. Sprinkle with icing sugar and serve. Go for a very long walk afterwards....
Linda from Wednesbury sent us - Leek and Mushroom in a mustard sauce
She tells us that this is a family favourite and lovely served with a green salad.

Pancakes (made in advance) parsley
2 leeks 50gms mushrooms
vegetable stock cube 1 tbsp balsamic vinegar
1 tblsp whole grain mustard 2 tblsp creme fraiche
Chop mushrooms and leeks and simmer in a vegetable stock for 5 minutes to soften. Drain off and keep 150ml of the stock.
Put the 150ml of the stock back on the heat and add 1 tbsp of balsamic vinegar, 1 tblsp of whole grain mustard and 2 tblsp of creme fraiche.
Stir until warm but do not let it boil. Stir in finely chopped parsley and the drained leeks and mushrooms to warm through.
Pour into the pancakes and fold. Serve immediately with a crisp salad for a perfect lunchtime treat.

From Gordon in Shrewsbury we received - Pancakes from South Africa
120g (250ml/1 cup) cake flour
5ml (1tsp) baking powder
2ml (a pinch) salt
2 eggs
200ml (3/4 cup) milk
200ml (3/4 cup) water
5ml (1tsp) brandy or lemon juice
125ml (1/2 cup) cooking oil
lemon slices to garnish
Makes 12-15 pancakes.
Hint:- The pancakes will turn out better if you make the batter at least one hour before cooking and refrigerate it.
VAN DER HUM SAUCE
60ml (1/4 cup) Van der Hum liqueur or any Tangerine liqueur
120g (1/2 cup) butter
250ml (1 cup) brown sugar
3ml (a pinch) cinnamon
3ml (a pinch) grated lemon rind, (zest)
4 bananas, halved lengthwise
Sift together the flour, baking powder and salt. Beat together the eggs and milk and stir into the flour mixture. Add the water and beat the mixture until it has the consistency of thin cream. Pour in the brandy (or lemon juice) and cooking oil and stir thoroughly. Cook the pancakes in a greased, heavy-based frying pan or preferably a Netherton Foundry 10" oven safe crepe pan. To make the sauce heat together the tangerine flavoured liqueur, butter, brown sugar, cinnamon and lemon rind stirring until the butter has melted and the sugar dissolved. Add the bananas and simmer for a few minutes. Place a banana half on each pancake and roll up. Place in a serving dish and pour the remaining sauce over. Serve each pancake with a slice of lemon.
---
---
A taste of the Middle East
This is not authentic, it is just a delicious combination of ingredients, inspired by the tastes of the Middle East, which I hope you will enjoy as much as we did.
We ate this with slices of bread, drizzled with Bennett and Dunn rapeseed oil, sprinkled with home made za'atar and then baked until crisp on our griddle plate in a hot oven.
It would be equally good with a flatbread and of course, whilst it makes a great vegetarian main dish, it would also be good with lamb chops!
150g butter beans, soaked overnight, simmered until soft in fresh water.
100g green beans, chopped
2 tblsp rapeseed or olive oil
1 red onions, sliced
2 fat cloves of garlic, sliced
1 aubergine, cut into ½" cubes
2 tsp salt
½ tin chopped tomatoes
1 cinnamon stick
Juice of half a lemon
1 tblsp chopped mint

Heat the oil over a medium heat in a Prospector pan and add the onion, garlic and aubergine.
Cover with a lid and cook slowly until the whole lot is soft. This should take around 20 minutes.
Add the beans, tomatoes, cinnamon and salt, pop the lid back on and cook for 30 minutes.
Remove from the heat and stir in the lemon juice and mint.
Either serve immediately or allow to cool to room temperature.

Serves 2
---
---
Watch the Netherton Foundry Cooking Iron and 10" pan in use:
This is a short video from our favorite Demo Chef Phil Leverington, prepares and cooks Venison with cabbage and black pudding on an outdoor wood fired Frontier Stove using just one knife, one pan and one dish !

---