Savarin ring recipes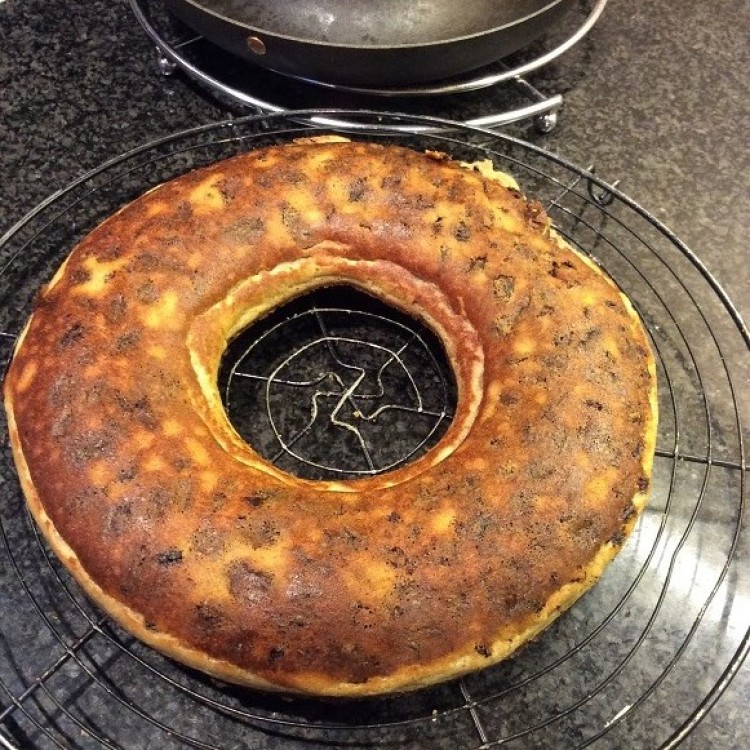 Shropshire Made 9½" small & 12" large Savarin rings
The Savarin ring a large circular mould, designed originally with an accompanying gâteau recipe in mind. It was created by the Julien brothers, Parisian pastry chefs who owned Julien Frères, a respected pastry shop in Paris in the mid 19th century. The name Savarin is given in honour of Jean Anthelme Brillat-Savarin, the famous French gourmet, who gave Auguste Julien the recipe for the rum syrup used in the original Savarin Gâteau. Savarin tins (also known as ring moulds) are in modern times, however, used for many preparations, sweet and savoury, including meat, seafood, and vegetable dishes, as well as cakes, breads, mousses and jellies.
---
Chocolate, rosemary and fig cake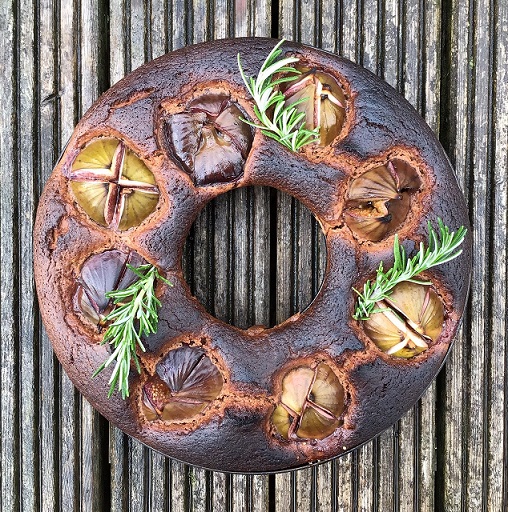 Start by gently poaching eight figs in a little water, with a couple of teaspoons of honey or sugar.
Pre-heat the oven to 180ºC
Grease a 9" savarin ring. You could make this in a cake tin, but you may need to use your skill and judgement to adjust the cooking time.
60g natural yogurt ( I used Greek)
1 tsp finely chopped fresh rosemary
Melt the chocolate, either in a microwave (sorry, absolutely no idea, we haven't got one!) or in a bowl over hot, not boiling water.
Whisk together the oil, yogurt, sugar and eggs. Add the melted chocolate and rosemary and mix thoroughly. Stir in the flour and pour the mixture into the prepared tin.
Arrange the figs evenly around the cake and place in the oven.
Cook for approximately 35 minutes until it passes the skewer test.
Leave to stand for 10 minutes before turning out onto a cooling rack. Place a plate under the rack to catch any dripping fig juices.
Whilst still warm (but not hot), invert on to a serving plate, decorate with rosemary sprigs and serve with cream of yogurt.
---
Summer Savarin: grapefruit, elderflower & strawberry.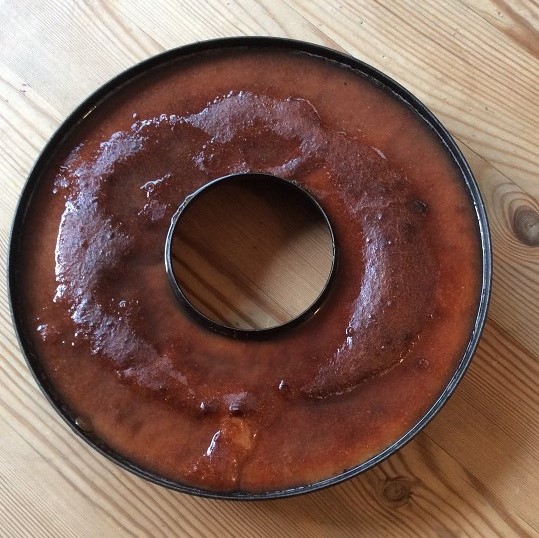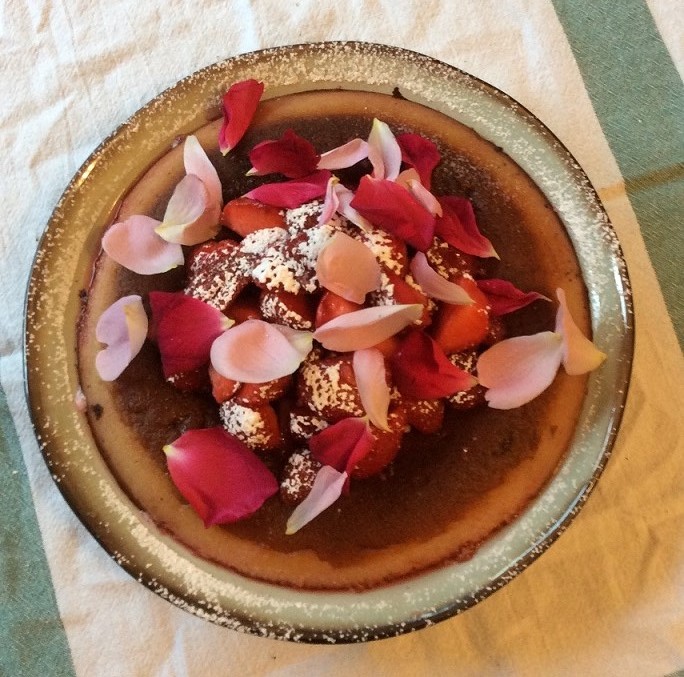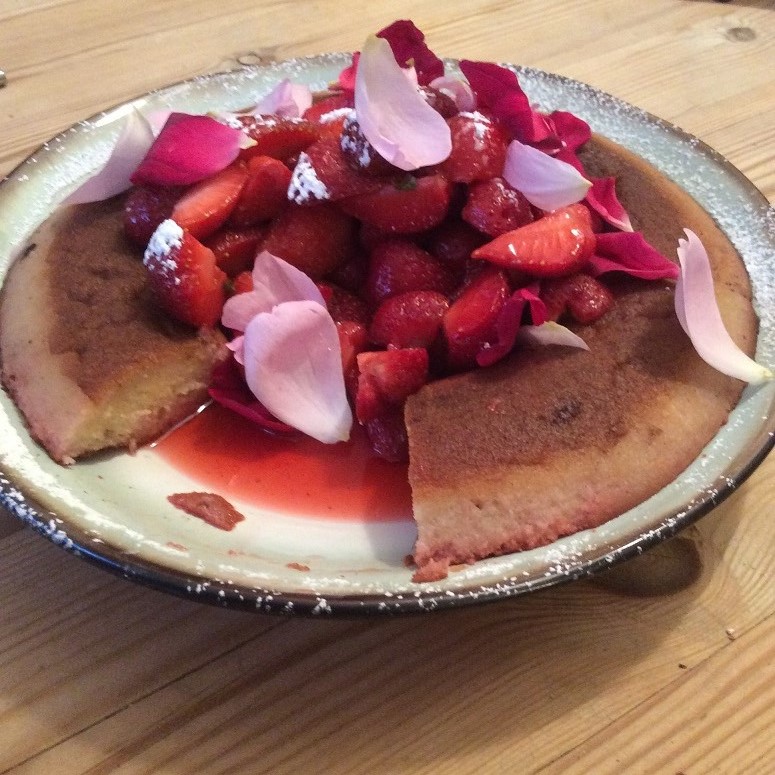 Savarin
4½oz plain flour
3 teaspoons caster sugar
½ teaspoon dried yeast
5 flo oz sour cream
2 eggs
2 oz melted and cooled butter
Finely grated rind of a pink grapefruit

Syrup
4oz caster sugar
2 oz water
Juice of 1 pink grapefruit
5 heads of elderflowers
A handful of fragrant rose petals (optional)
5 fl oz sparkling white wine

400g strawberries
Juice of 1 lemon
Sugar to taste

Place all of the savarin ingredients in a large mixing bowl and beat thoroughly for 2 minutes.
Cover the bowl with cling film or a clean,damp tea towel and leave in a warm, draught free place until doubled in size.

Quarter the strawberries and place in a shallow dish. Pour over the lemon juice and add sugar to taste. Leave to steep and allow the juices to run.
Prepare the syrup. Put the sugar and water into a pan - a
7" saucepan
is ideal and heat gently until the sugar is dissolved. Bring to the boil and simmer for 3 minutes. Place the elderflowers and rose petals in a large jug. Add the grapefruit juice to the sugar syrup, bring back to the boil and then pour over the flowers.
Leave to infuse.
Back to the savarin mix...... lightly grease a
9½" savarin ring
and pour in the savarin batter.
Cover with cling film or a damp tea towel and leave for 30 minutes.
Meanwhile, heat the oven to 200ºC

Put the savarin ring into the pre-heated oven and cook for approx 20 minutes, until golden brown.
Remove from the oven and pour over about half of the syrup. (You can use the rest to make cocktails with the remainder of the bottle of Prosecco).
Leave to cool and absorb the syrup.
Turn out onto a serving plate and pile the strawberries in the centre.
Dust with icing sugar and scatter rose petals over the top - if you happen to have some!

Netherton Foundry, Shropshire, England. A family business crafting traditional cookware in Highley, Shropshire from iron, oak and copper,using materials
predominantly sourced in our own and neighbouring counties. Copyright 2022.
---