Clock care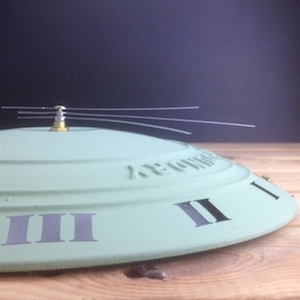 Netherton Foundry Clocks FAQ's and product care.
1. How long should the battery last?
About one year, but may be shorter if clock is used in a cool location.
2. Which battery type should I use?
We only recommend using Alkaline AA batteries. Do not use Lithium or Zinc.
3. The clock has stopped working but the battery is new
Check the hands of the clock are not bent or rubbing against each other.
Remove the clock from wall.
Using the dial on clock mechanism at the back of the clock,
move the hands forward (clockwise only) until all the clock hands are in the 12 o'clock position.
Place the clock down on a flat surface.
Look at the hands from the side and check that none of the hands are touching each other.
Check both the long ends and the short ends of the hands.
If they are touching, gently bend the hands away from each other.
4. If the hands are very bent,
They can simply be removed by pulling each one off the drive stem of the clock mechanism in turn.
Start with the second hand (if fitted), then the minute hand and finally the hour hand.
Straighten the hands and replace them in the reverse order.
5. Hand hangs loosely down in 6 o'clock position.
The hand has become detached from the mechanism.
Remove each hand in turn, starting with the second hand (if fitted), until you get to the detached hand.
Simply grip the hand at the point where it joins the mechanism
and push it back on to the drive stem of the mechanism.
These clocks hands are bent and the clock will not work until the hands are straightened.
This clock has bent hands and will not run well.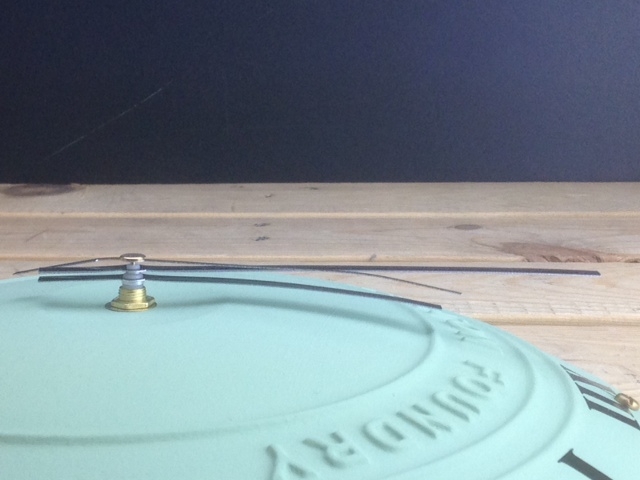 The clock hands should look like this:

N
---