Iron & copper saucepan recipes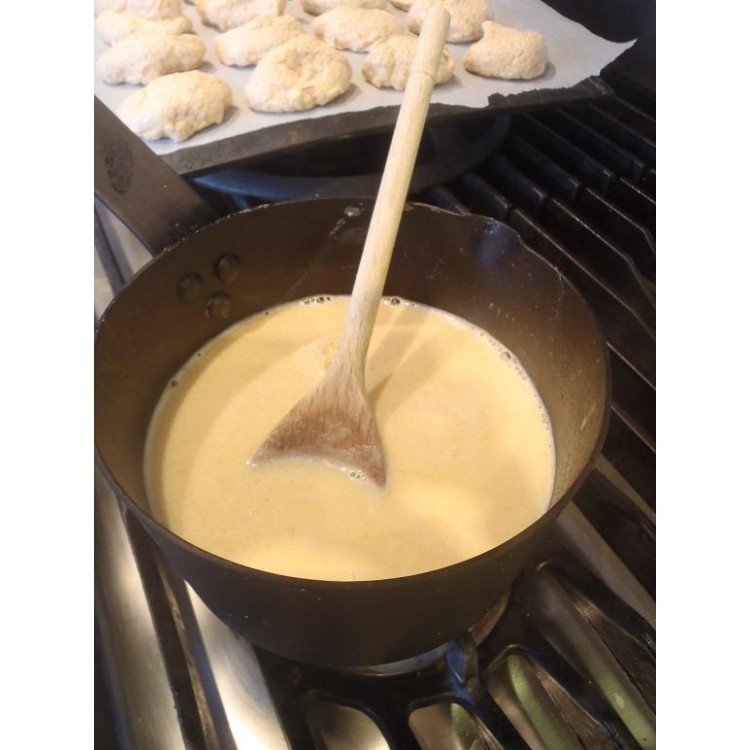 This is every cook's opinion -
no savory dish without an onion,
but lest your kissing should be spoiled
your onions must be fully boiled.
A rice pudding recipe:
There is something soothing about the gentle blip of a pot of rice pudding sitting on the stove top. In our view, this is one of the greatest ever comfort foods. Now we now this is a contentious issue and one which divides the population, so let us know if you are a "homemade" or an "Ambrosia" stalwart.
This is a very simple version, as you will see from the following recipe, which we are going to eat with a drizzle of this season's rosehip syrup.
You will need
60g pudding rice
500 ml full fat milk
1 tsp vanilla extract
60ml double cream
Sugar to taste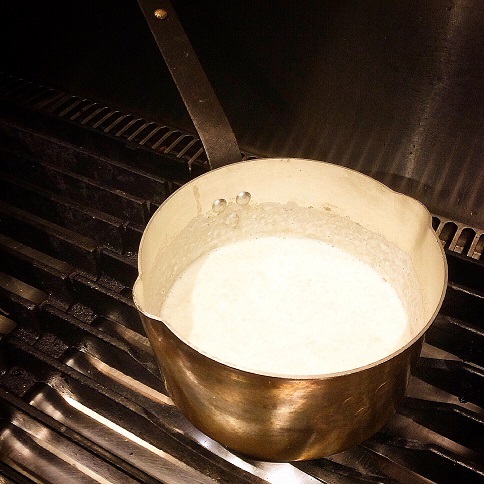 Put the rice, milk and vanilla into a saucepan. Sue used our
copper milk pan.
Put the pan on a very low heat and cook, stirring occasionally until the rice is soft and most of the milk has been absorbed. Don't overdo it, a solid block of homogenised rice is not rice pudding!
Stir in the double cream and taste. If you are going to serve this with jam, honey, brown sugar or a syrup you may find that you don't need any sugar. But if you do want some, add gradually and taste between each spoonful.
---
Lemon, lime and vodka ice cream - strictly for adults
This is a rather fine ice cream, enhanced with a slug of vodka, making it a special grown-up treat. Of course, if you are feeling virtuous or want to share with the kids you can leave the vodka out.... or you could just feed them some vanilla!
You will need.....
250 ml double cream
150ml full fat milk
Grated rind and juice of 1 lemon and 1 lime
100ml Greek yogurt
2 eggs
150g sugar - more or less according to taste
Slug of vodka
Measure out 100ml of cream and put into a
milk pan
with the milk.
Heat gently.
Whisk the eggs, sugar, rind and juices together.
When the milk and cream are just coming to the boil, pour over the egg mix and whisk well.
Return to the pan.
Cook gently, stirring continuously until the custard coats the back of the spoon.
Transfer to a bowl and cool quickly - I stood mine in a bowl of iced water.
When cold, add the vodka. In a separate bowl, whisk the remaining cream until it just holds its shape and then stir in they yogurt.
Pour the lemon custard in and mix gently.
Pour into a plastic container and place in the freezer.

---