A reliable stove makes all the difference to camping trips, allowing you to cook up a hearty stew in the evening then warm up in the morning with a hot cup of coffee. Stoves vary in size from dinky little ultra-light burners that fit into your pocket to big stove-top numbers complete with grill, side wind protectors and a lid that is pretty much like bringing your cooker from home along with you. The great thing about all camping stoves is that they are essentially portable hobs, meaning that anything you can cook on your stove at home can be whipped up in the great outdoors by sticking a pot or frying pan on top.
Always ensure you buy the right fuel canister for your particular stove. The most common use gas (propane and butane) or liquid fuel (paraffin, kerosene, etc), and different canisters are designed to clip or screw on to different stoves. Turn the gas on and light with a match or lighter – some will burn with a bright, friendly blue flame; others are hard to see alight but make a bit of a roaring noise.
If it's really windy, watch carefully to make sure the flame hasn't gone out. Never cook inside your tent - you could poison yourself with carbon monoxide fumes. And always have a go at setting your stove up at home first – there's little more frustrating than realising you bought the wrong fuel when you're desperate for a cuppa.
---
7. Darby Made Cast Iron Burner and Grill: £120, Darby Made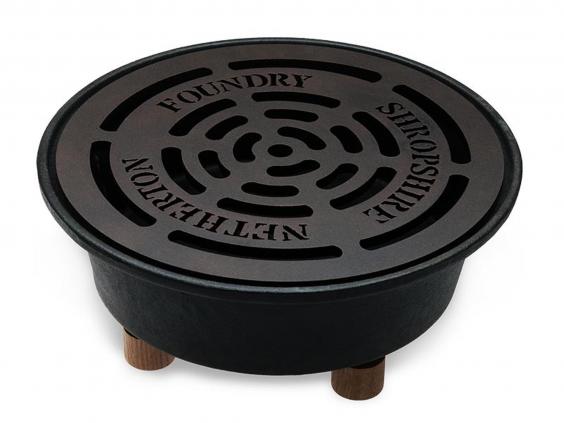 The hipster option of choice, this mega-posh, handmade cast-iron burner is actually very portable (well, when cold) and works as a beautiful fire pit in the back garden, or as an easy-to-use, spacious grill when camping (using lump charcoal as fuel). It's ideal for beach barbeques or taking to campsites that don't allow a campfire. You can even use it on decking or on a table, due to its wooden legs, and iron kettles and iron frying pans are available to buy separately. A luxe option for glampers.
You can read the whole article online reviewing all 8 winners at:
https://www.independent.co.uk/extras/indybest/travel/camping/best-camping-stoves-uk-grill-review-gas-family-for-hiking-meals-a7798451.html
More info on the product at:
https://www.netherton-foundry.co.uk/shop/outdoor_cooking/nfs-107ghg
---