Accessories
Netherton Foundry Hot Smoker & Roaster Accessory Set
For use with the Netherton Foundry spun iron deep casserole or Kitchen Companion
Hot smoke and cook your favourite foods at home on your hob top.
A great way of adding natural flavour to fish, duck, chicken, cheeses etc.
Also perfect for roasting chestnuts.
The set comprises:
Spun iron smoker dish. Perforated to allow smoke to permeate the food.
Spun iron smoke chip tray.
Smoke flavouring chips. We include 3 bags of untreated oak chips, locally sourced, enough for 6 uses.
Instructions to get you started.
Pre-seasoned with flax oil for an easy clean finish.
Coating can simply be restored at home, time after time.
Ideal for gas or electric hobs, ovens, ranges and outdoor cooking on flames but we don't recommend using the smoker on induction hobs.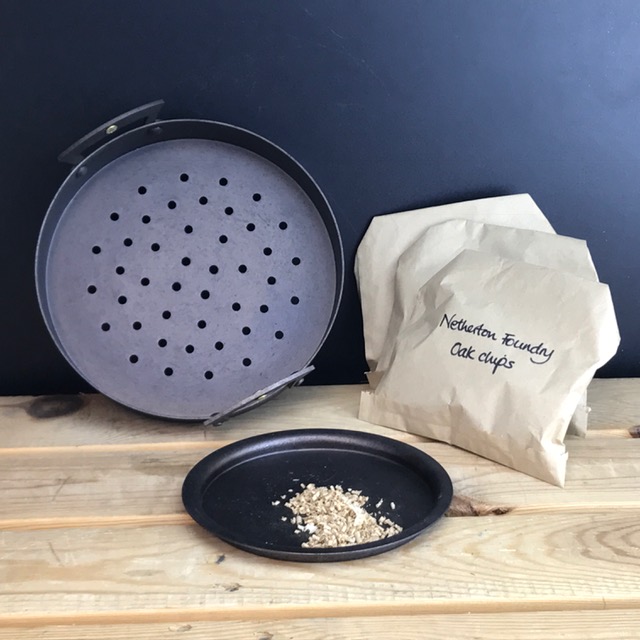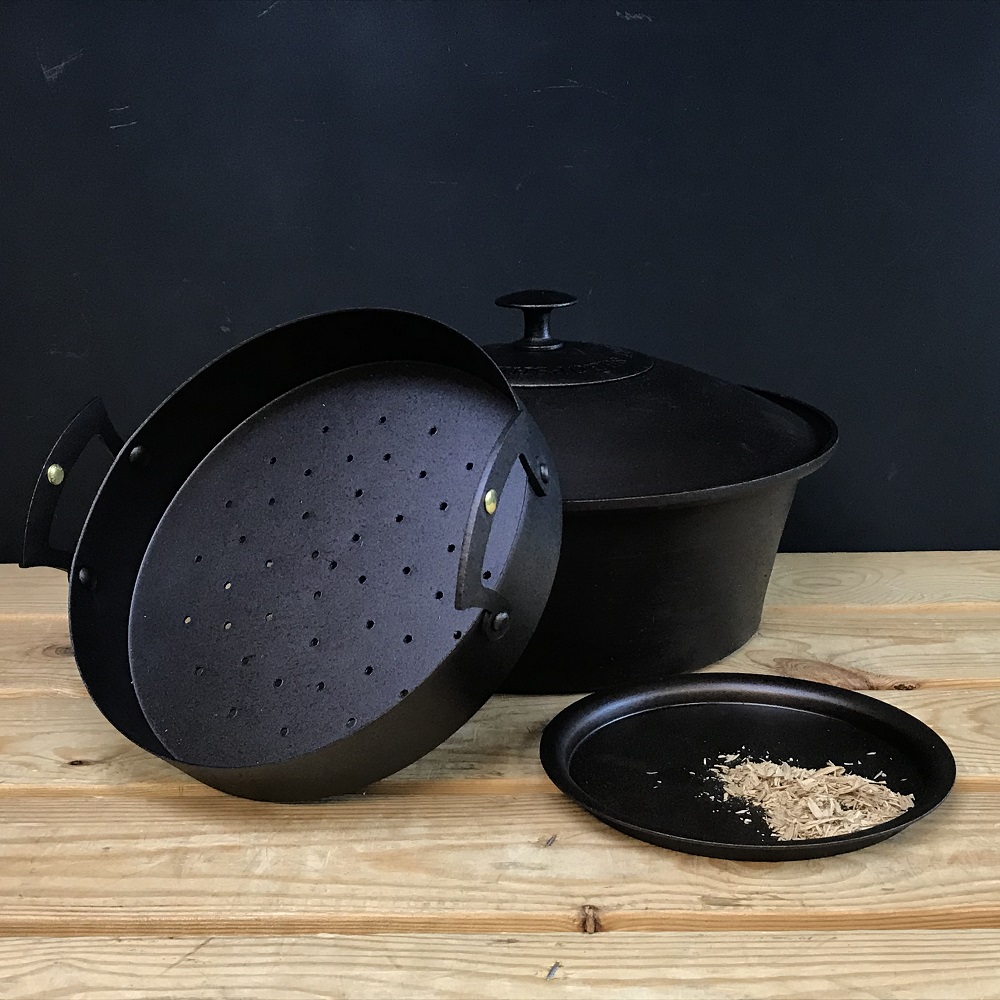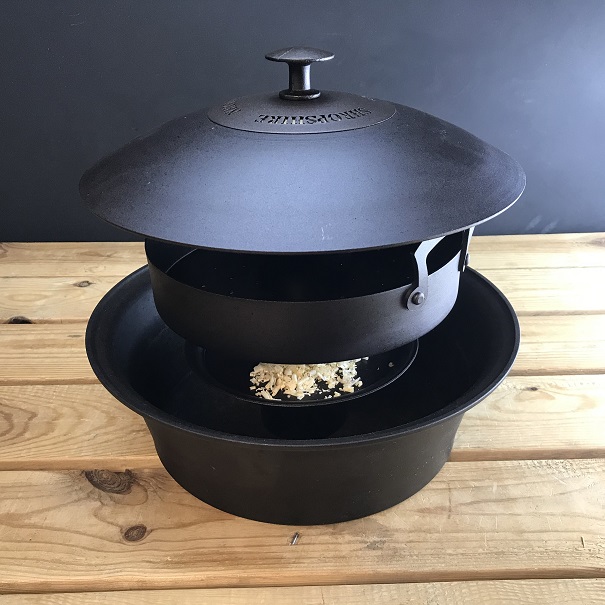 AN EXTRACT FROM THE INSTRUCTION BOOKLET
PREPARING YOUR FOOD READY FOR SMOKING
Before cured foods are smoked, they should be allowed to air-dry long enough to form a tacky skin, known as a pellicle. The pellicle plays a key role in producing excellent smoked items. It acts as a kind of protective barrier for the food, and also plays an important role in capturing the smoke's flavour and colour.
Most foods can be properly dried by placing them on racks, by hanging them on hooks or sticks. It is important that air be able to flow around all sides. They should be air-dried uncovered, in the refrigerator or a cool room. To encourage pellicle formation, you can place the foods so that a fan blows air over them. The exterior of the item must be sufficiently dry if the smoke is to adhere.
We recommend that you place damp or wet food on a "dish" made of aluminium foil to prevent any moisture from the food dripping onto the flavouring and preventing them from smoking.
Make sure you apply a thin coating of oil to the foil in order to prevent adhesion.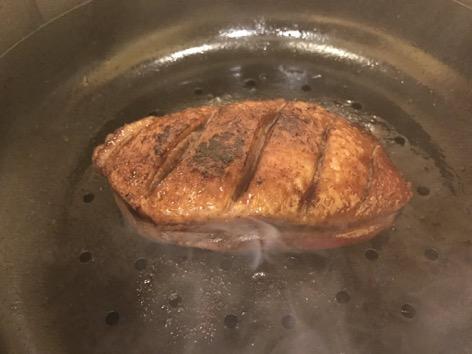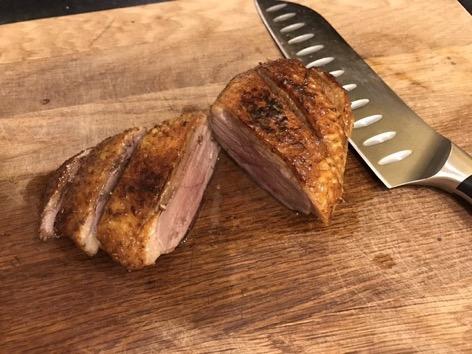 Photos of Smoked Duck Breast from Dan J.
HOW TO USE YOUR SET FOR HOT SMOKING FOOD
Place the shallow smoke tray into the bottom of the spun iron casserole bowl.
Add your smoke flavourings on to the smoker tray.
We supply you with a starter pack of locally sourced, untreated oak chips.
As a guide we would suggest you start with two tablespoons of oak chips.
Sit the smoker dish on top of the tray and put the spun lid on the casserole bowl.
Place the casserole dish on the hob or on your Kitchen Companion Heater Base and turn the heat to HIGH/MAX.
Leave for 20 minutes for the chips to combust and create smoke.
Have your food ready. After 20 minutes of heating, carefully place the food into the smoker dish and replace the casserole lid.
Continue to cook for at least 25 minutes to develop the smoke flavour and cook your food.
Beef, lamb and duck may be served pink, but you must ensure that all pork and chicken products are thoroughly cooked. Try experimenting with different smoking ingredients such as tea, rice, spices and citrus zest. We like wood chips from fruit trees such as apple & pear, these are available on-line.
Look out for new ideas & recipes on the website www.netherton-foundry.co.uk & our blog www.netherton-foundry.blogspot.com
SUGGESTIONS FOR SMOKED FOODS
Here are a few suggestions for your first smoking experiences with your Netherton Foundry product.
Please remember when creating your own recipes that depending on the ingredients used, cooking times may vary.
Ingredients:
Bacon, sausages, duck breast, chicken, whole garlic bulbs, aubergines, mushrooms, cheese.
Menu ideas:
Smoked chicken with a carrot and cardamom puree
Bacon chops on Spring greens
Chicken breast with beetroot salad
Pork and beef smoked meatballs with a harsissa based sauce
Smoked aubergine dip
Pork tenderloin stroganoff.

Netherton Foundry, Shropshire, England. A family business crafting traditional cookware in Highley, Shropshire from iron, oak and copper,using materials predominantly sourced in our own and neighbouring counties. Copyright 2021.