Accessories
Shropshire Made 33" (86cm) Giant Paella Pan ©
This is the largest pan we've made so far and follows our iconic prospector pan styling.
This giant pan is idea for party cooking and entertaining outside.
Heat on large gas burners, charcoal or wood fires.
We still offer free delivery on this pan in the UK but it is an expensive pan to ship overseas. So for shipments outside the UK, please send us your address and post code/zip code and we will send you a quotation with the best shipping price we can find.
Fry, sear and then cook for minutes or simmer for hours.
Pre-seasoned with flax oil for a natural non-stick finish
The pan is spun from 2mm thick durable 99.1% pure black iron and has two sturdy handles.
Suitable for high temperature frying & browning.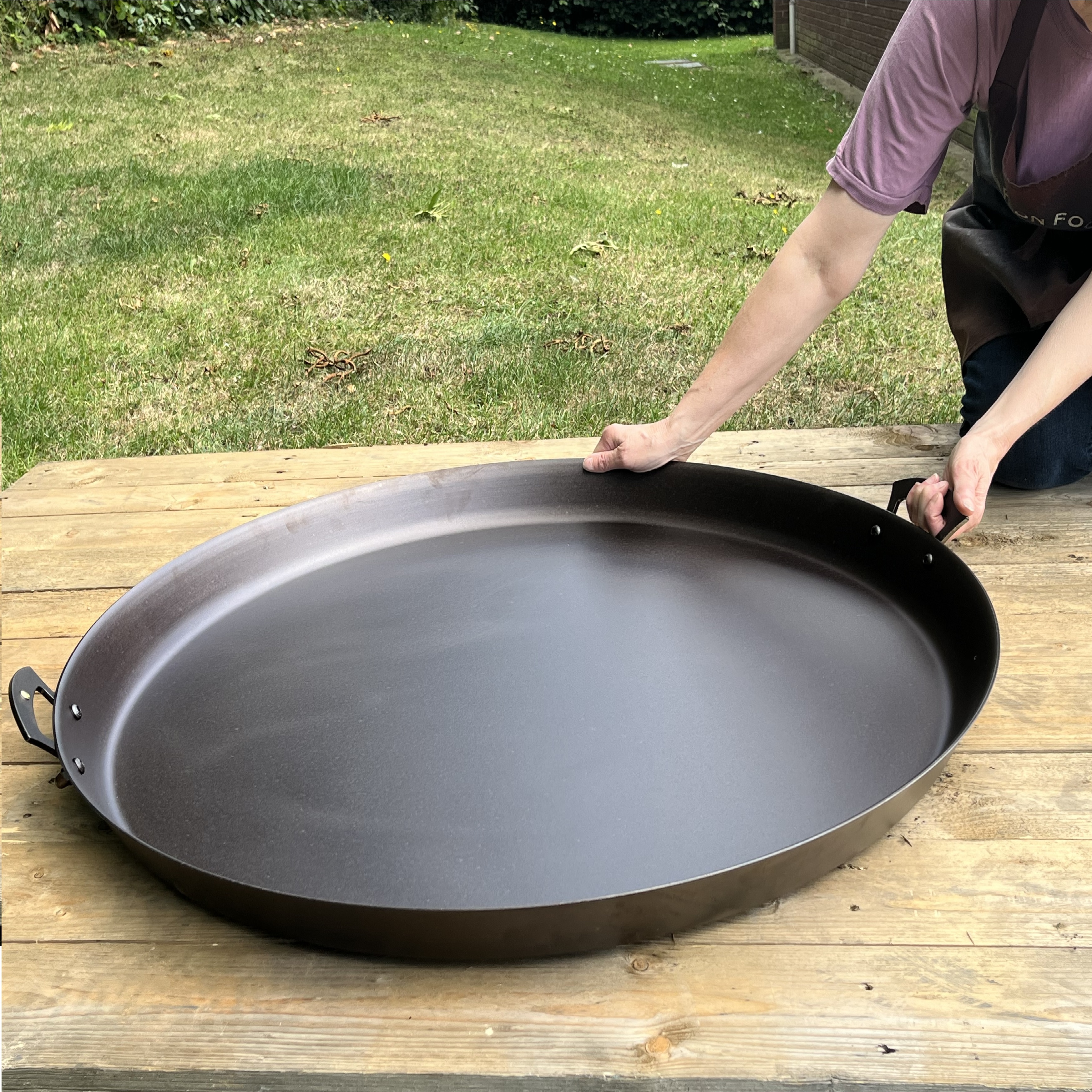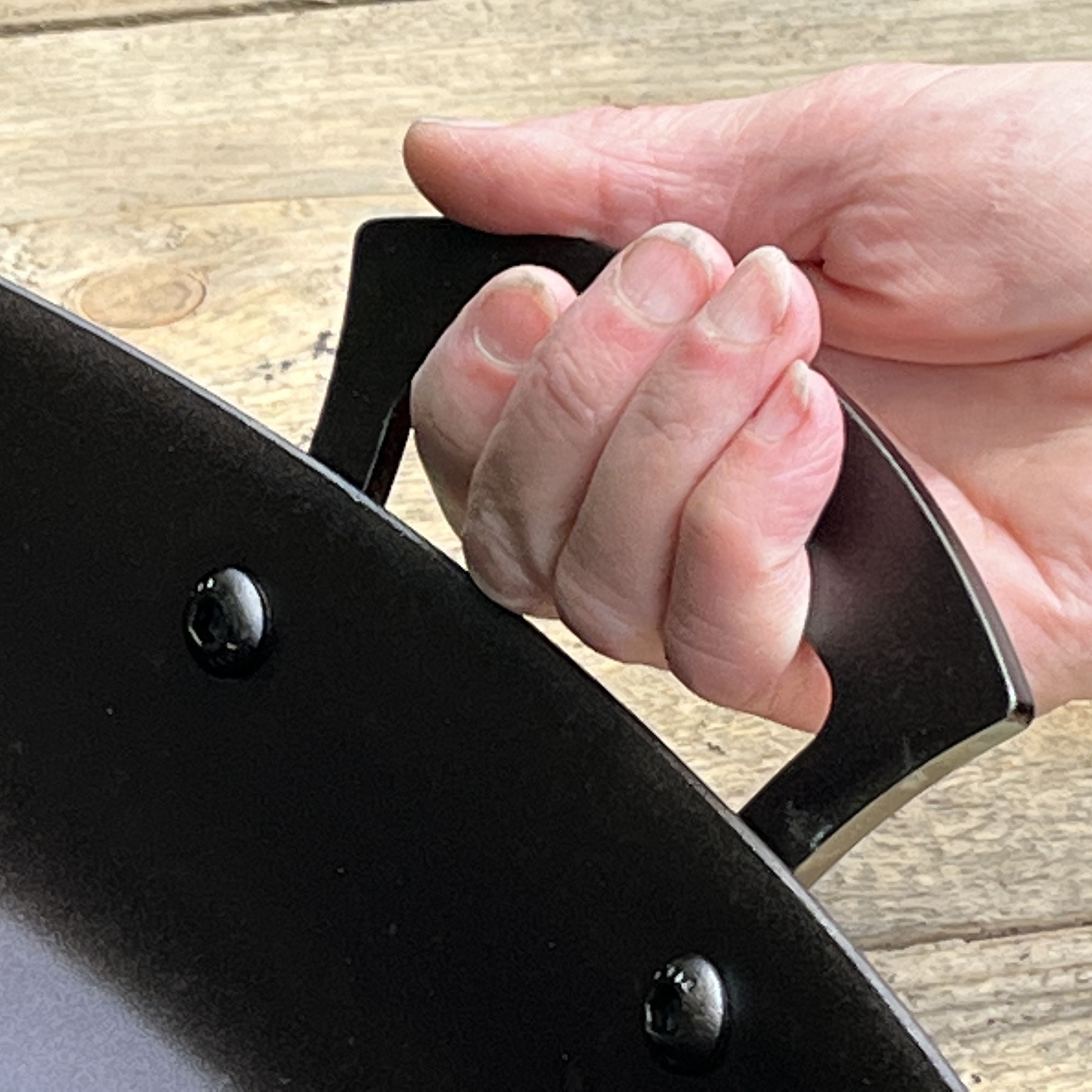 Dimensions:
Weight 22lb (10.00 kg), Top rim diameter 33.75'' (86cm), Base diameter 31" (78cm),
Pan height 2.75'' (6.5cm), Base to top of handle 5" (12cm), Width across handles 36" (92cm)

Why have we made this enormous pan?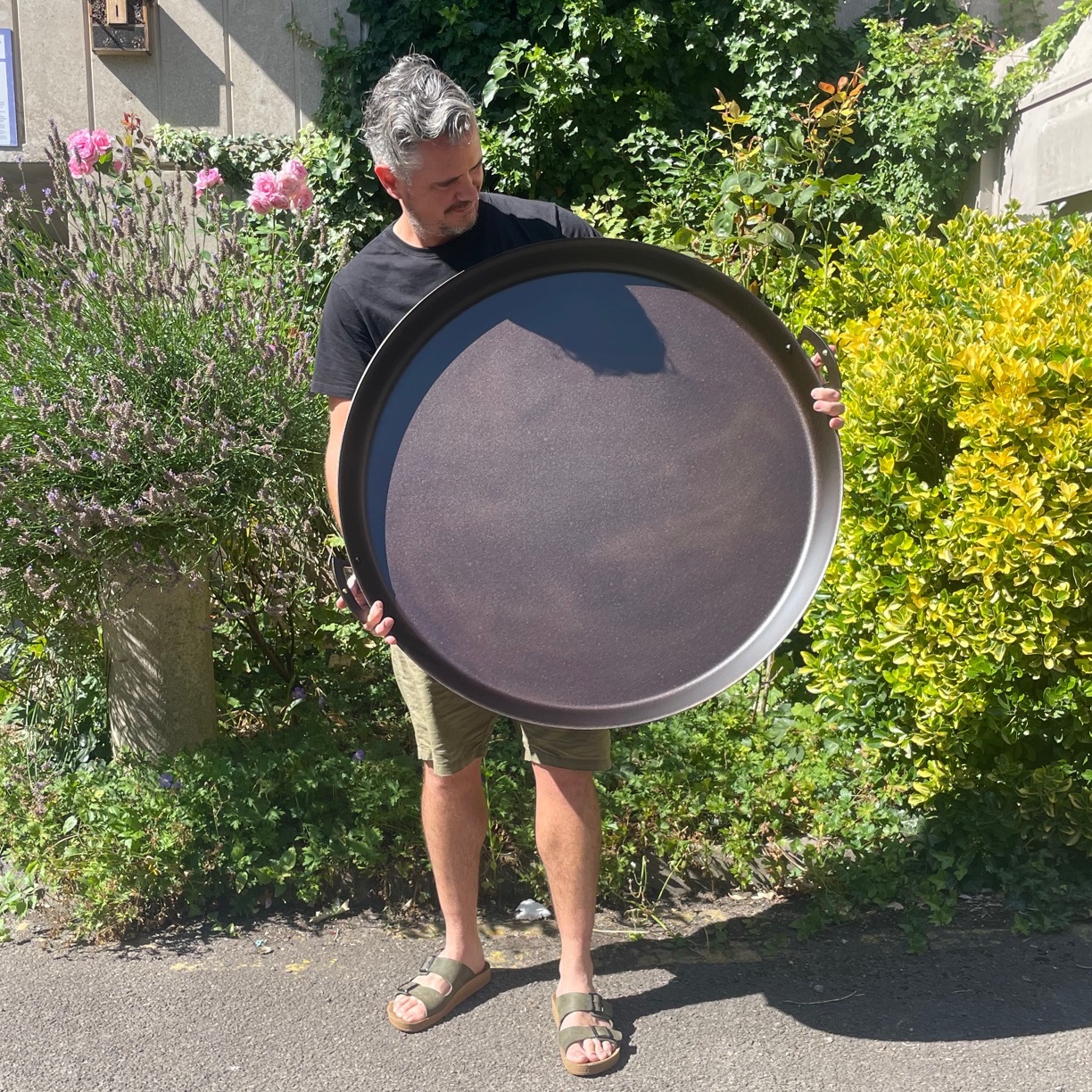 "Can you make me a big pan?" asked Henry. "Of course," we said "would our 14" prospector pan fit the bill?" "Er, no, I was thinking MUCH bigger than that!" "Leave it with us" we replied and got to work. That, in essence, is the conversation we had with Bristol based chef, Henry Eldon in the run up to the August 2022 Valley Fest in Bristol.
At the festival Henry demonstrated his live fire cooking skills by creating enough bouillabaisse for 50 - 60 people. Our standard 14" prospector pan, which we had hitherto thought of as the big boy of the range, is big enough for 10 - 12 people. That meant we needed something about 5 times the size. Double checking our

π

r² calculations, we reckoned that THIS should do it. A 33" prospector pan, without a doubt the biggest pan we have ever made. Henry is delighted with his record breaking pan. And if you are planning on cooking for a crowd, you're in luck, as we made some extra ones.
Find out more ab
out Henry and his food
here
.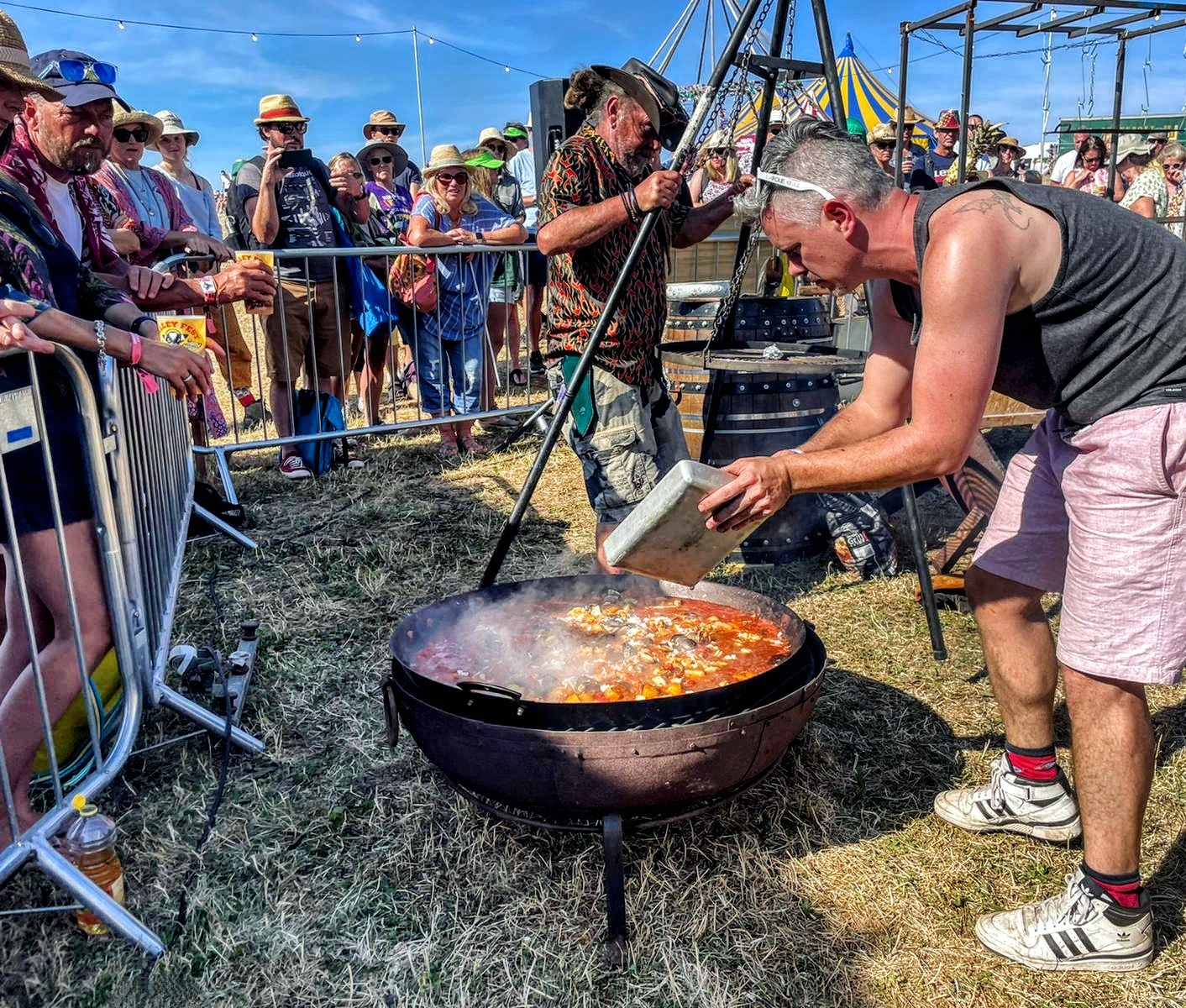 Why choose a pre- seasoned giant paella pan ?
No chemicals or PTFE are used in the coating of the pan.
The edible Sussex flax oil coating is easy to wash & naturally non-stick. It is ready for immediate use.
The coating can be simply restored time after time .
Iron pans are tough and can be used at very high temperatures.
Iron is a pure, simple metal which is easy to look after & very recyclable.
What's special about OUR spun black iron pans?
Serious cooks and professional chefs love the way that black iron pans heat evenly and give great cooking performance.
The more you use your pan the better it gets as the seasoned patina develops.
A couple of handy tips:
If you are cooking meat or fish - oil the food, not the pan.

Be patient; allow the food to cook before trying to turn it over.

Don't fry food straight from the fridge, allow it to come up to room temperature.

Call us on 01746 862781 for advise on how to re-seaon this giant paella pan.
The pan bodies are spun by hand, so each one is slightly different. They will not all be as flat as a billiard table.
If you do want to keep it as flat as you can, then follow these simple guidelines.
Every time you use the pan, heat it SLOWLY to frying temperature.

Never drop a hot pan into cold water. This will buckle it.
Your pan will develop with use and, if cared for, will age beautifully and be a friend for life.

Tags: Paella