11" (28.5cm) Spun Iron Crepe Pan
Accessories
11''(28.5cm) Spun Iron Crepe Pan ©
Shropshire made pan with oak handles
Made in Britain.
PTFE & PFOA free - absolutely no chemicals.
Pre-seasoned with flax oil for a natural non-stick finish
Durable 99.1% pure iron pan with sturdy riveted handle
Hand made, British oak handle covers with brass fixings
Suitable for high temperature frying & browning
Remove handle covers for use in oven or grill
Perfect for range stoves, open fires, electric, gas, ceramic, halogen & induction hobs (heat up slowly to keep flat).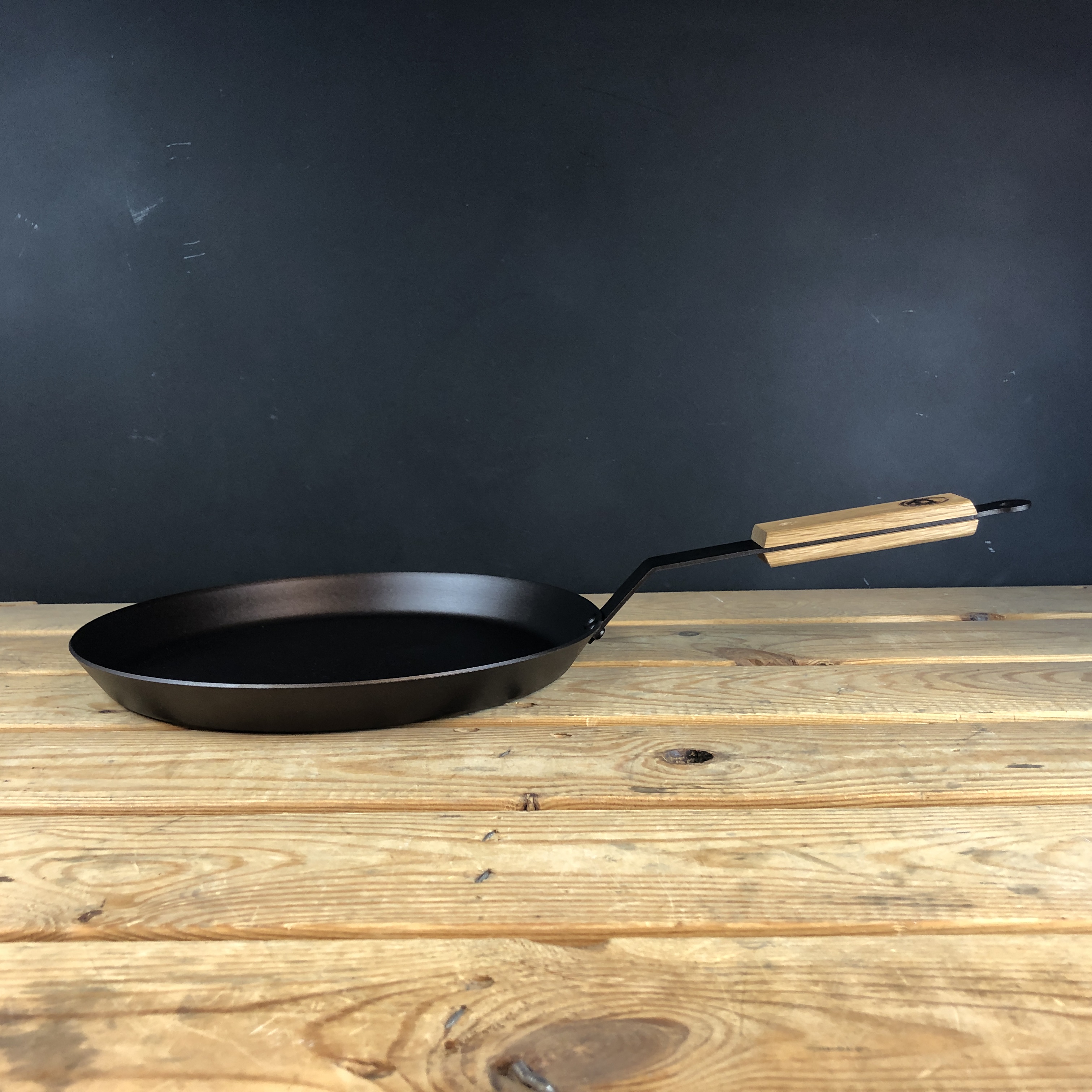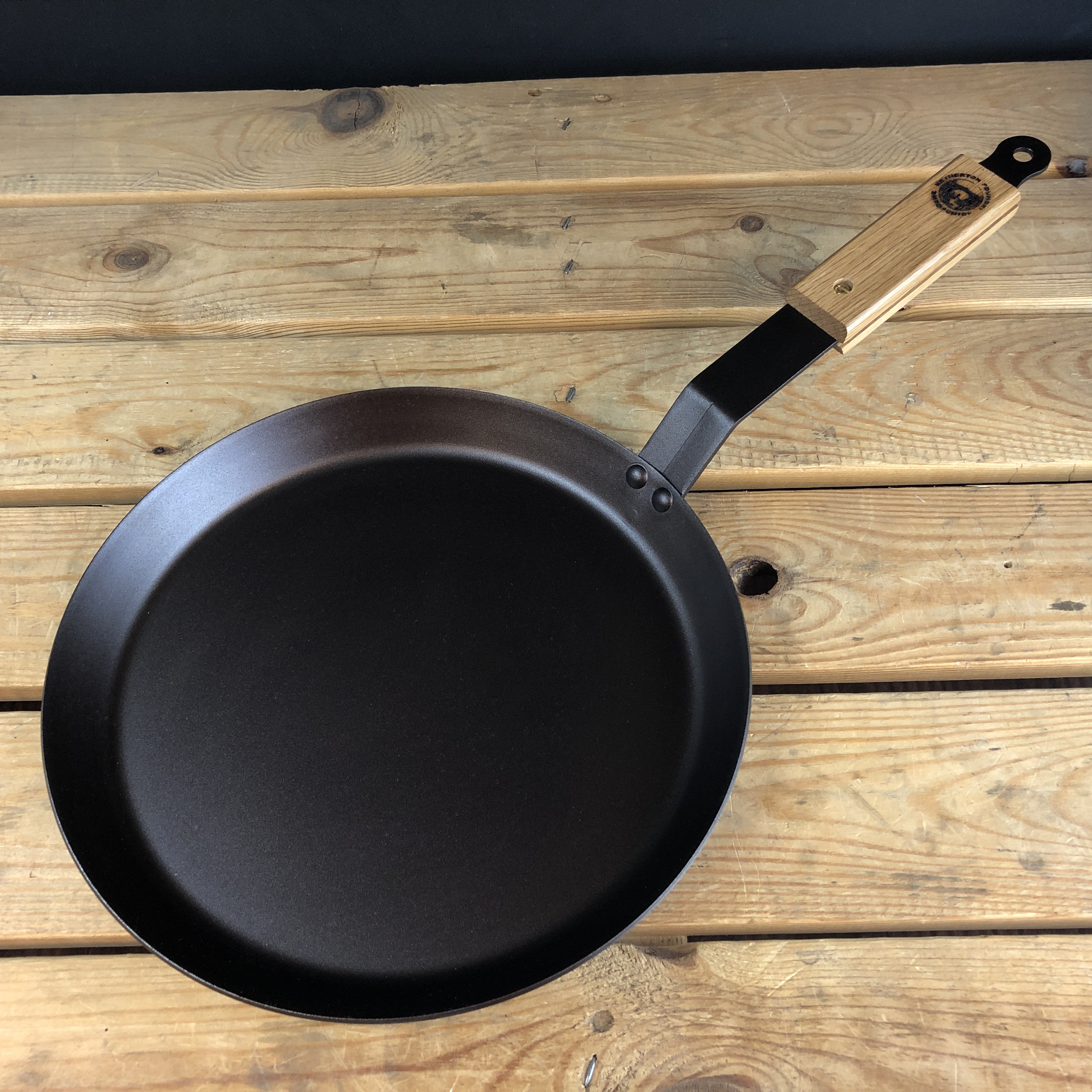 Dimensions:
Weight 3lbs (1.35kg),
11'' (28.5cm) rim diameter, 9.5" (24cm) base diameter, 1 1/8'' (2.8cm) pan height, 9½" (24cm) handle.
The pan has a thick 2mm base and 45 degree sides.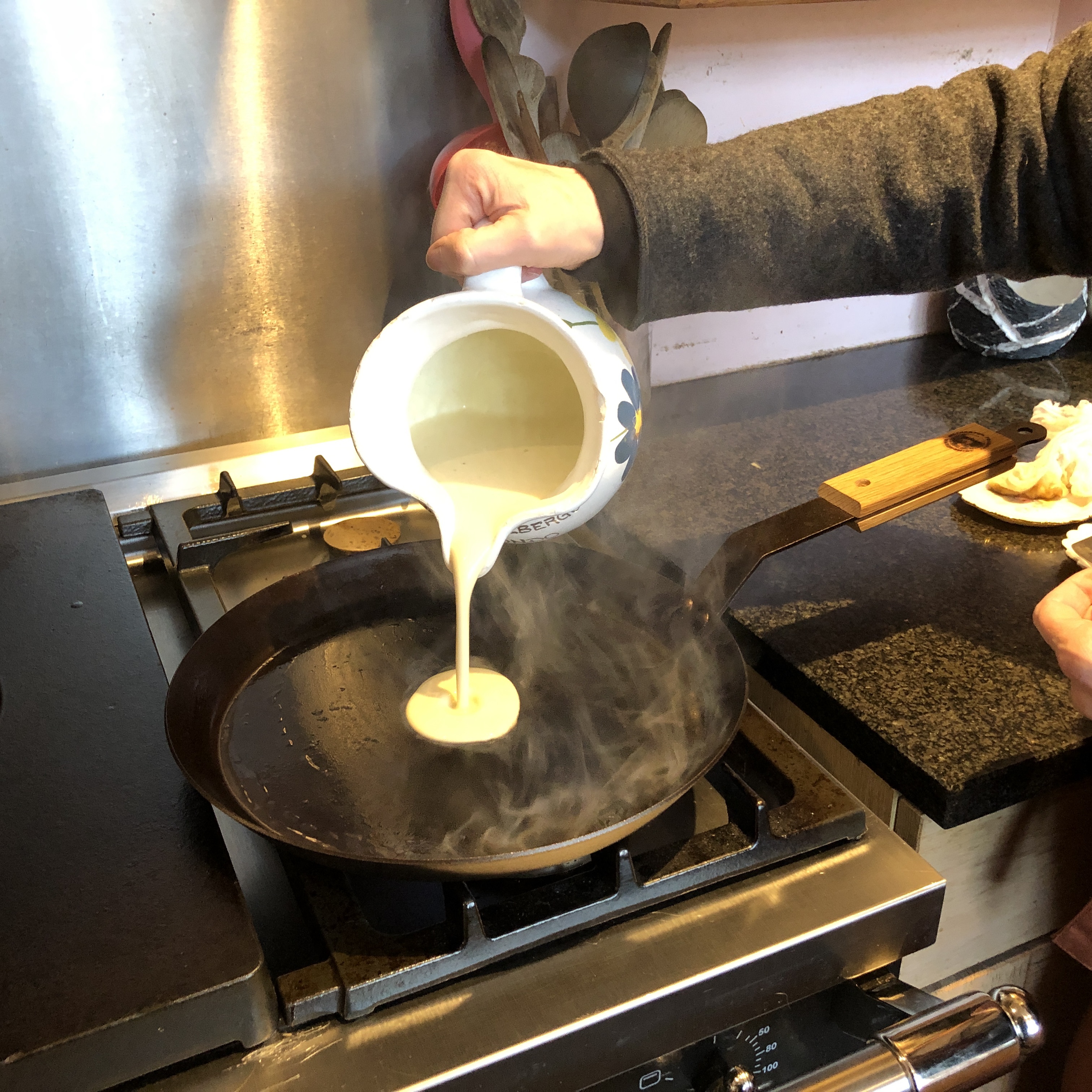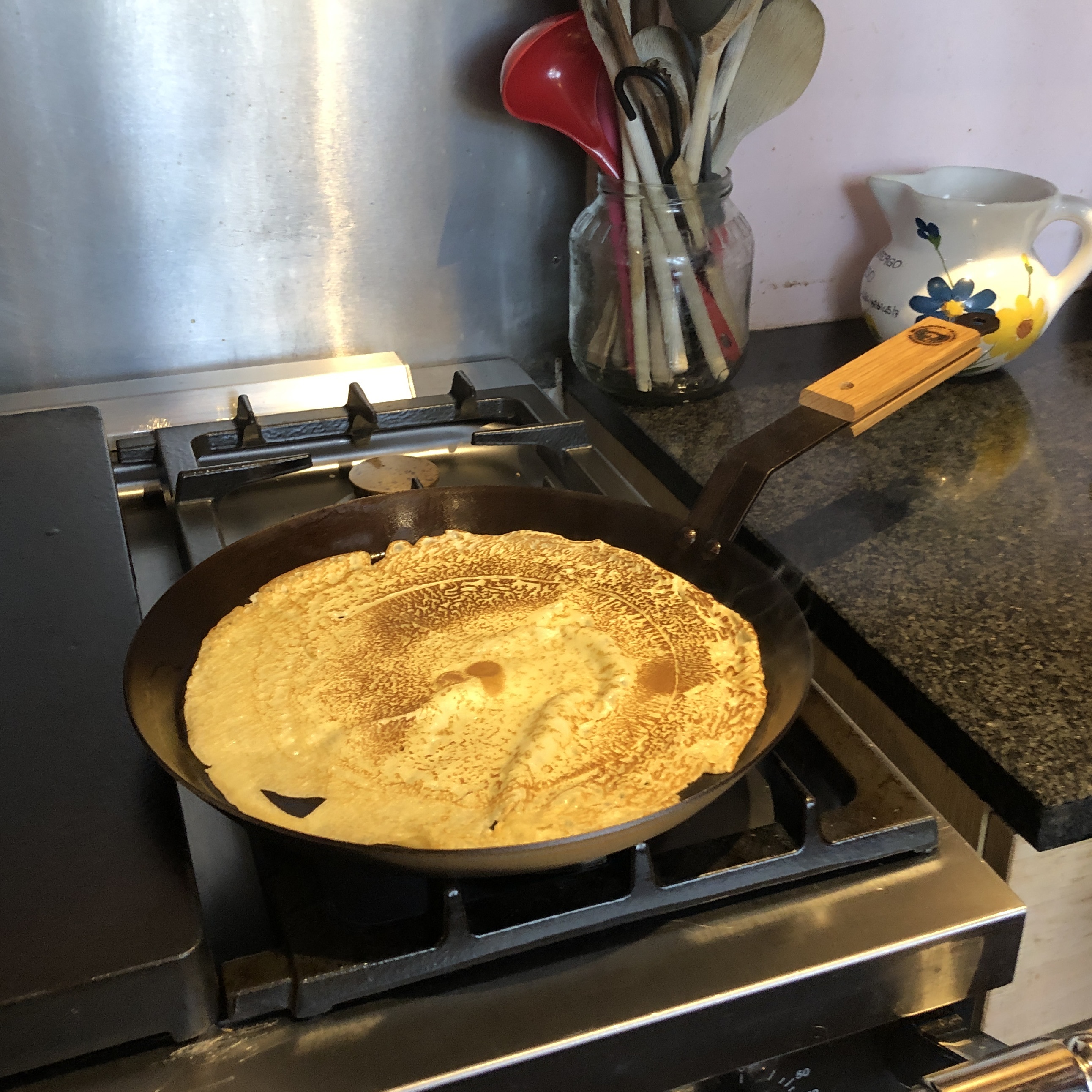 It takes 90 seconds to cook the perfect pancake, watch it done in 5 seconds!
Why choose a pre- seasoned pan ?
No chemicals or PTFE are used in the coating of the pan.
The edible Sussex flax oil coating is easy to wash & naturally non-stick.
It is ready for immediate use.
Coating can be simply restored at home, time after time .
Iron pans are tough and can be used at very high temperatures.
This iron pan is suitable for all types of hobs, grills and ovens.
Iron is a pure, simple metal which is easy to look after & very recyclable.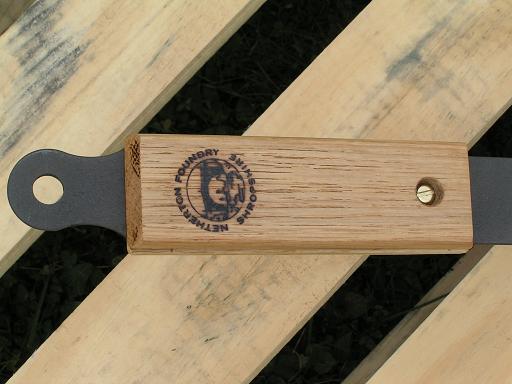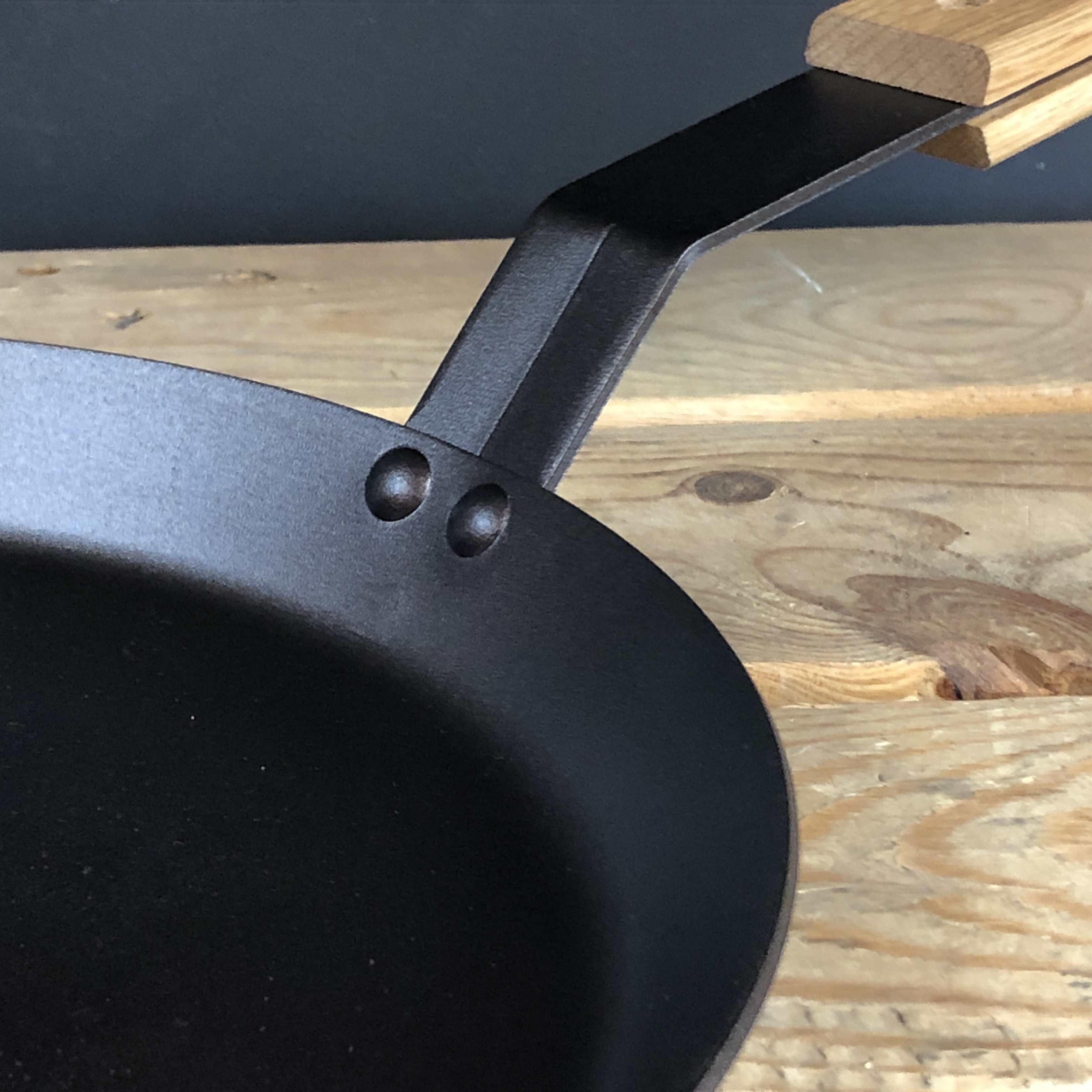 What's special about OUR spun black iron pans?
Serious cooks and professional chefs love the way that black iron pans heat evenly and give great cooking performance.
The more you use your pan the better it gets as the seasoned patina develops.
A couple of handy tips:
If you are cooking meat or fish - oil the food, not the pan
Be patient; allow the food to cook before trying to turn it over.
Don't fry food straight from the fridge, allow it to come up to room temperature.
The pan bodies are spun by hand, so each one is slightly different. They will not all be as flat as a billiard table.
If you do want to keep it as flat as you can, then follow these simple guidelines.
Every time you use the pan, heat it SLOWLY to frying temperature, then you can use full power.

This is especially important if you are using powerful cooking hobs such as induction.
Use a hob the same size as the pan base, small rings WILL warp big pans.
Never drop a hot pan into cold water. This will buckle it.
If your pan has oak handles, the grain on every piece is unique and each one is branded by hand. They are like fingerprints, no two are identical.
Love your pan and follow our instructions for re-seasoning. Oven seasoning is kinder to the pan than hob top seasoning and it also give a nicer looking finish.
We suggest that you only use hob top seasoning, if your oven is too small for your pan or you are re-seasoning your wok.
Your pan will develop with use and, if cared for, will age beautifully and be a friend for life.

Tags: crepe