Shrove Tuesday and we have a new crepe pan
Shrove Tuesday
"A pancake is a flat cake, often thin and round, prepared from a starch-based batter that may contain eggs, milk and butter and cooked on a hot surface such as a griddle or frying pan, often frying with oil or butter. "
C'mon Wiki, we can do better than that…..A pancake is joy on a plate, sunshine on a grey day, a crepe, a galette, a blini, a dosa, a hopper, a smile on the face of a child, an indulgence, a treat. Although to be fair to Wikipedia, they have listed an impressive list of pancake derivatives from around the world and covered history as well as geography.
Did you know that "archaeological evidence suggests that pancakes were probably the earliest and most widespread cereal food eaten in prehistoric societies. "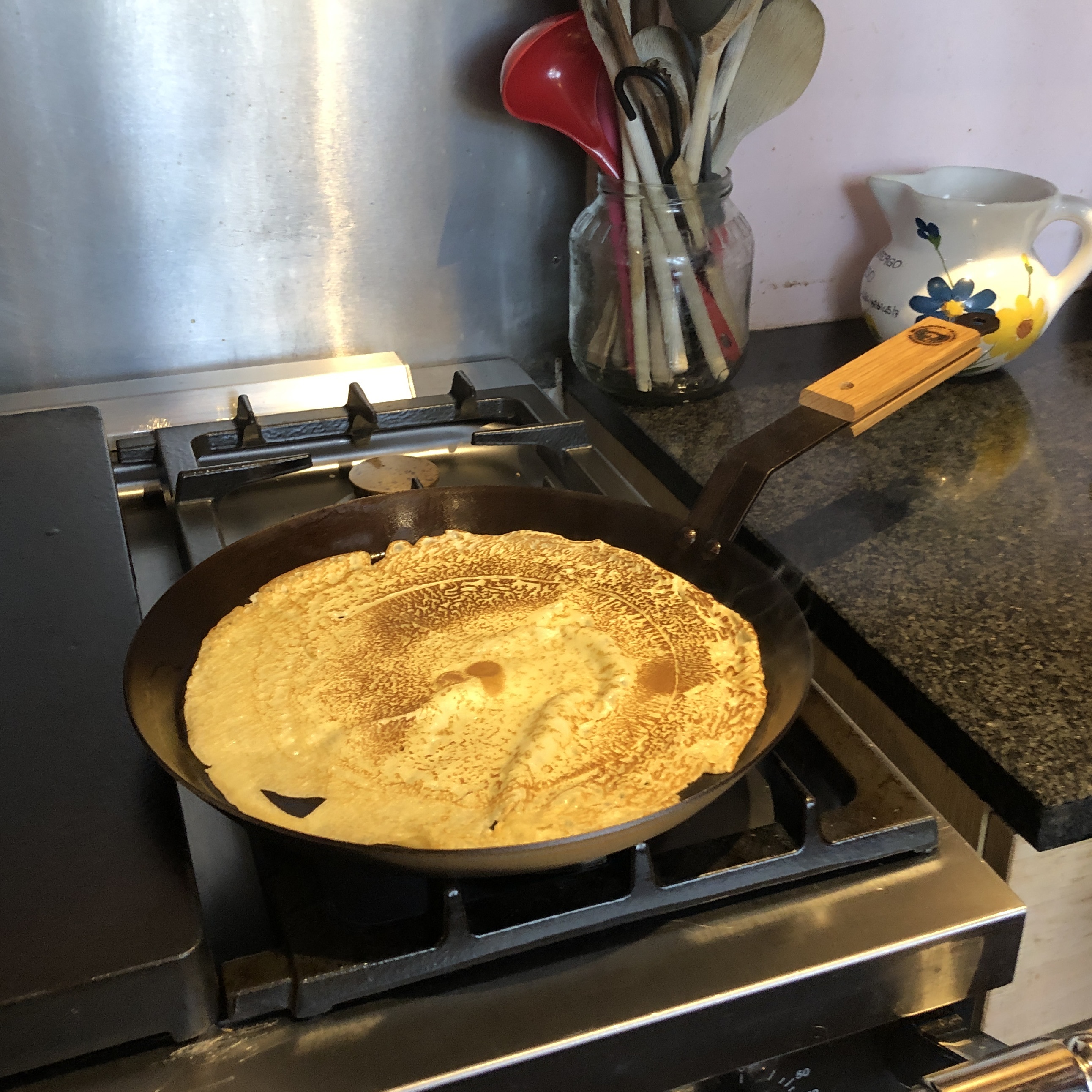 Recipes abound, even for the most basic of pancakes and English pancakes usually have three key ingredients: plain flour, eggs, and milk.
However, Gervase Markham's 1615 version in The English Huswife used water instead of milk, and added sweet spices.
The question is, do you put butter in your batter? And if so, just make sure it's sweet and fresh. We just use a little knob of butter, wrapped in muslin to wipe around our crepe pan before frying.
Betty Botta bought some butter;
"But," said she, "this butter's bitter!
If I put it in my batter
It will make my batter bitter.
But a bit o' better butter
Will but make my batter better."
Then she bought a bit o' butter
Better than the bitter butter,
Made her bitter batter better.
So 'twas better Betty Botta
Bought a bit o' better butter.
It takes 90 seconds to cook the perfect pancake in our new pan, watch it done in 5 seconds!
Just for the record, this year, Pancake day / Shrove Tuesday / Mardi Gras is on the 1st of March. To mark the occasion we've completed our brand new crepe pan. We've listened to the comments from our friends and regular customers and the new version has a wider rim and base so you can easily make a large 9½ inch ( 24cm) pancake. We've also made the sides shallower and increased the radius between the base and side to make it easier to slide the crepe out of the pan.