Nick was born and raised on Ashdown Forest in Sussex and from an early age spent most of his time grubbing about in the woods, wild camping, fishing and shooting. Influenced largely by early morning viewings of Les Hiddens AKA. Bush tucker man, Nick gradually got into wild food with the help of his mother and her willingness to teach him how to cook the rabbits, pheasants and trout that found their way into the kitchen.
Venison on greens cooking on a Netherton 12 inch Barbecue Chapa by Nick Weston at River Cottage food Fair 2019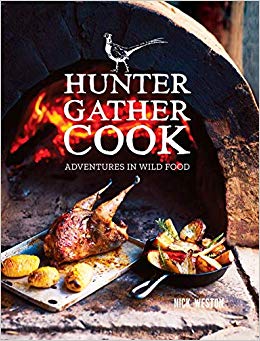 Wordery says:Hunter Gather Cook aims to set you on a fulfilling, lifelong path of culinary adventures and food DIY, and show you how to embrace the lifestyle that surrounds the 21st-century hunter-gatherer. It will make wild food accessible to you, and take away any sense of trepidation at making your first brew, burger or carpaccio. And if you're already a 21st-century hunter-gatherer, then it will help you to expand your culinary repertoire, taking your experimentation and enjoyment to the next level. A cookbook for those wishing to reconnect with nature and the source of their foodIncludes butchery guides and wild-plant indexesRecipes include wild meats, vegetables, sauces, sides, oils and cocktailsWhile there's no doubt the world is a very different place to how it was 10,000 years ago, some things have remained the same. We are still hunter-gatherers, just like our ancestors.

Netherton Foundry, Shropshire, England. A family business crafting traditional cookware in Highley, Shropshire from iron, oak and copper,
using materials predominantly sourced in our own and neighbouring counties. Copyright 2020.