Ukrainian carbon steel 12" (30.5cm) Netherton Foundry Prospector Pan in support of Unicef
Accessories
Ukrainian carbon steel 12" (30.5cm) Prospector Pan ©
Made by Netherton Foundry in support of Unicef, helping children in Ukraine.
The war is still happening in Ukraine with targeted attacks on the civilian population, water and power supplies.Things continue to get harder for the Ukrainian population.
We know that everyone is facing challenges right now and that so many of you have already made contributions to charities supporting Ukraine.
Whilst whatever we do right now is not going to be enough, that's no excuse not to keep on giving.
We are building one of our most popular Prospector Pans using a body that we've spun from Ukrainian made carbon steel.
Why are we doing this?
1. To raise some cash for Unicef's work with children in Ukraine.
2. We want to show some solidarity with the people of Ukraine, proof we've not forgotten them.
3. Netherton Foundry wants to give our tiny bit of support to our fellow metal workers in Ukraine by buying and using their steel.
Slava Ukraini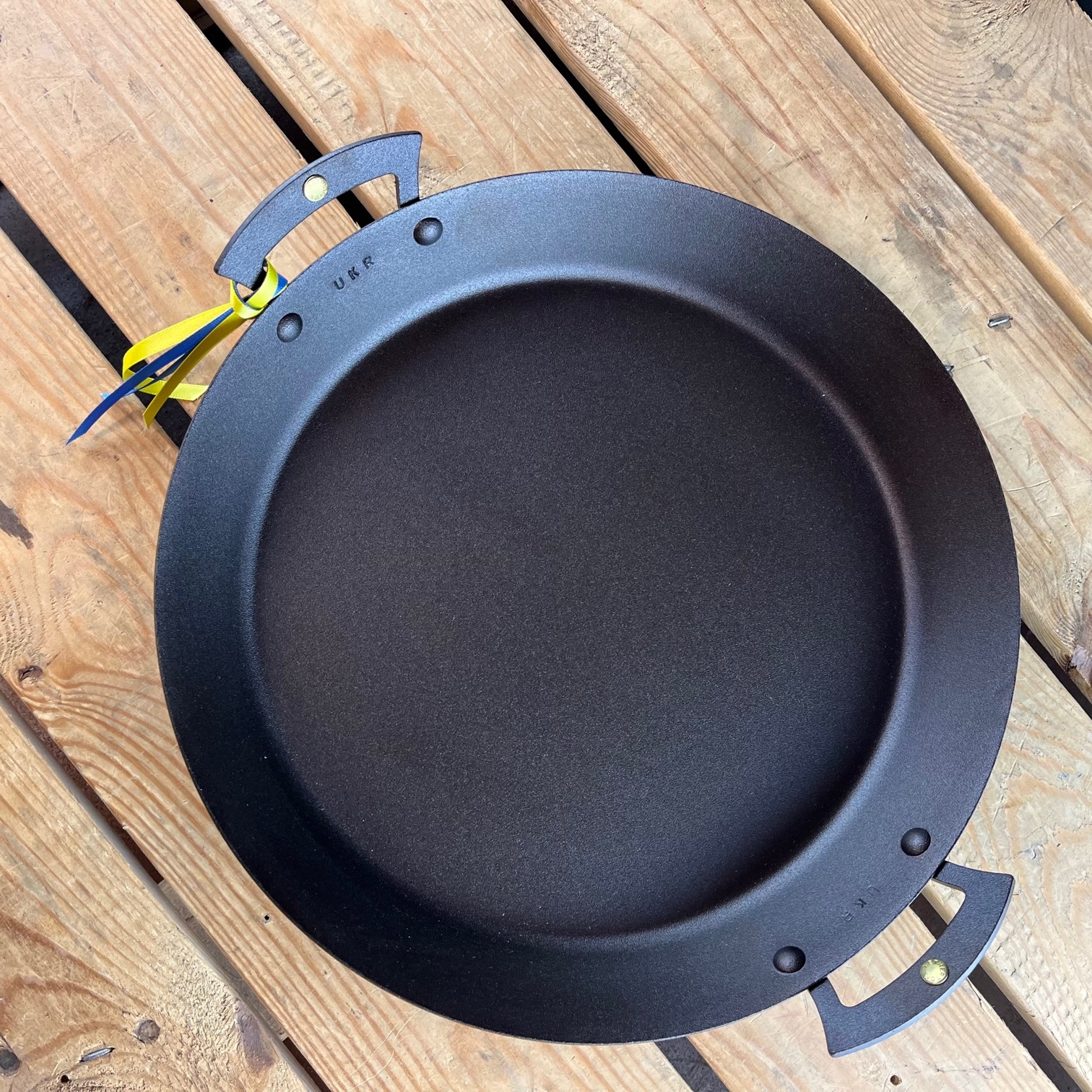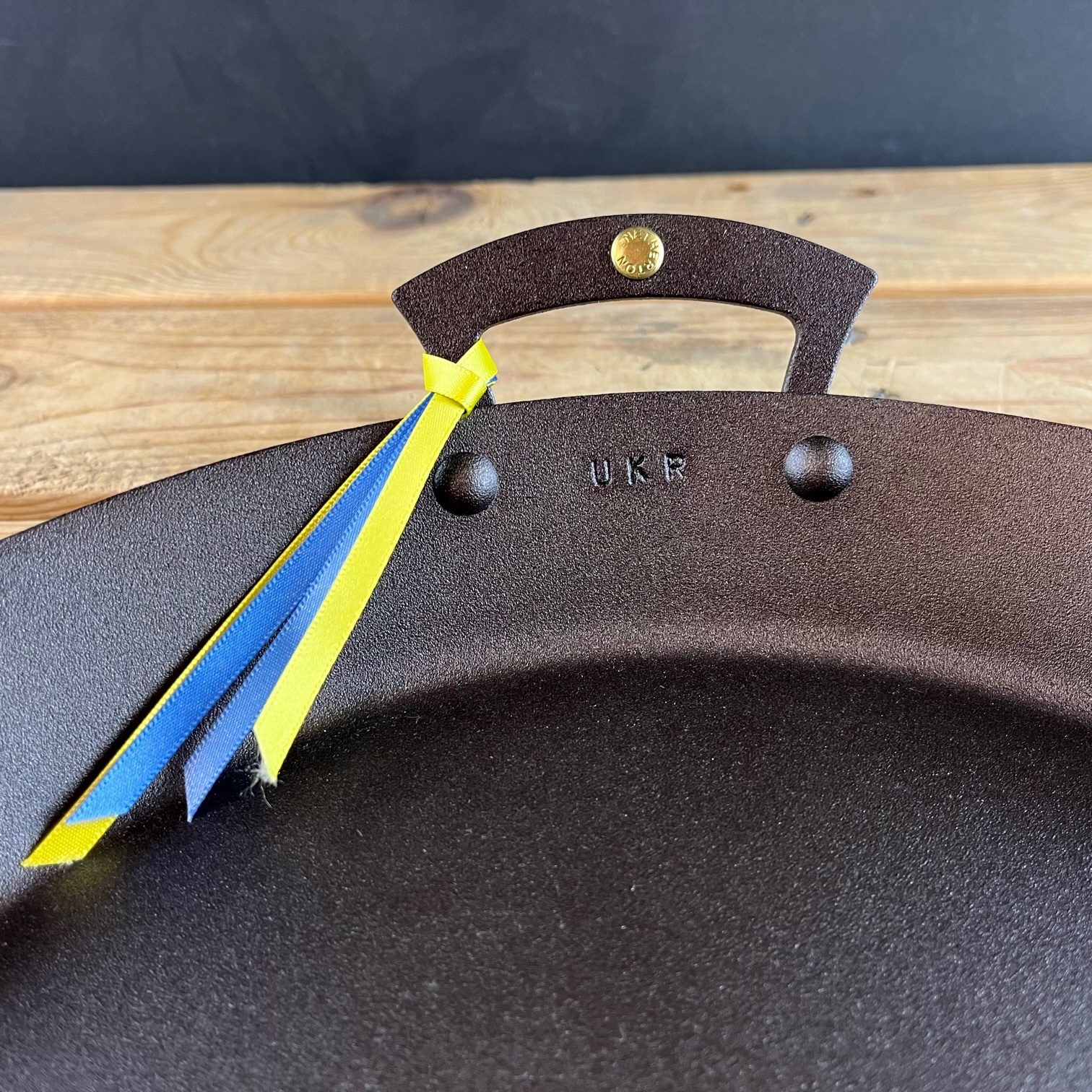 What's special about the pan?
We've stamped UKR on the body and added some ribbons to cheer us all up.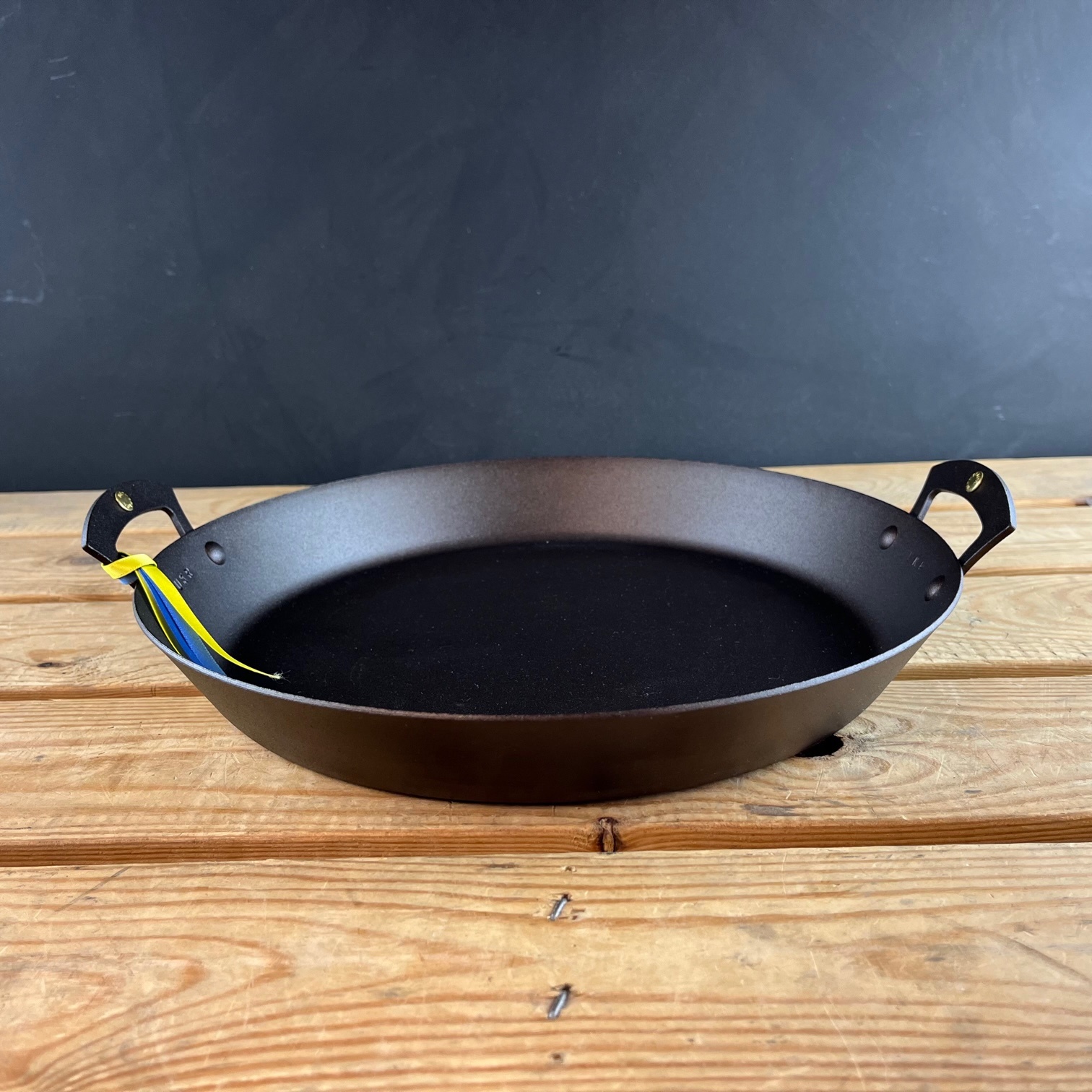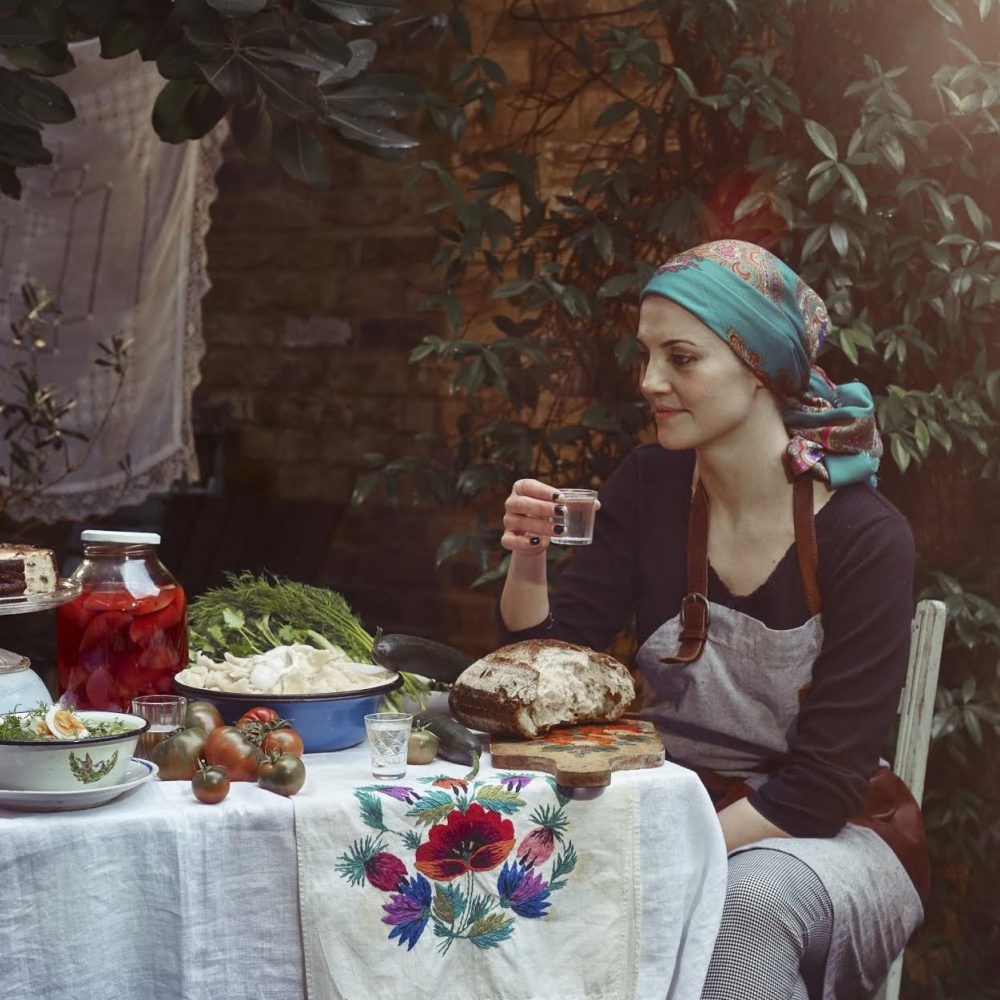 Ukranian chef and writer,
Olia Hercules
has kindly given us a special recipe from her book
Summer Kitchens
. We will send you a copy of the recipe along with the pan.
© Olia Hercules 2022, 'Summer Kitchens', Bloomsbury Publishing Plc. Used by kind permission.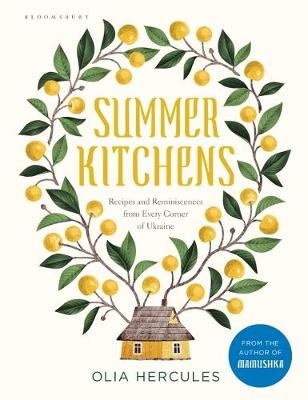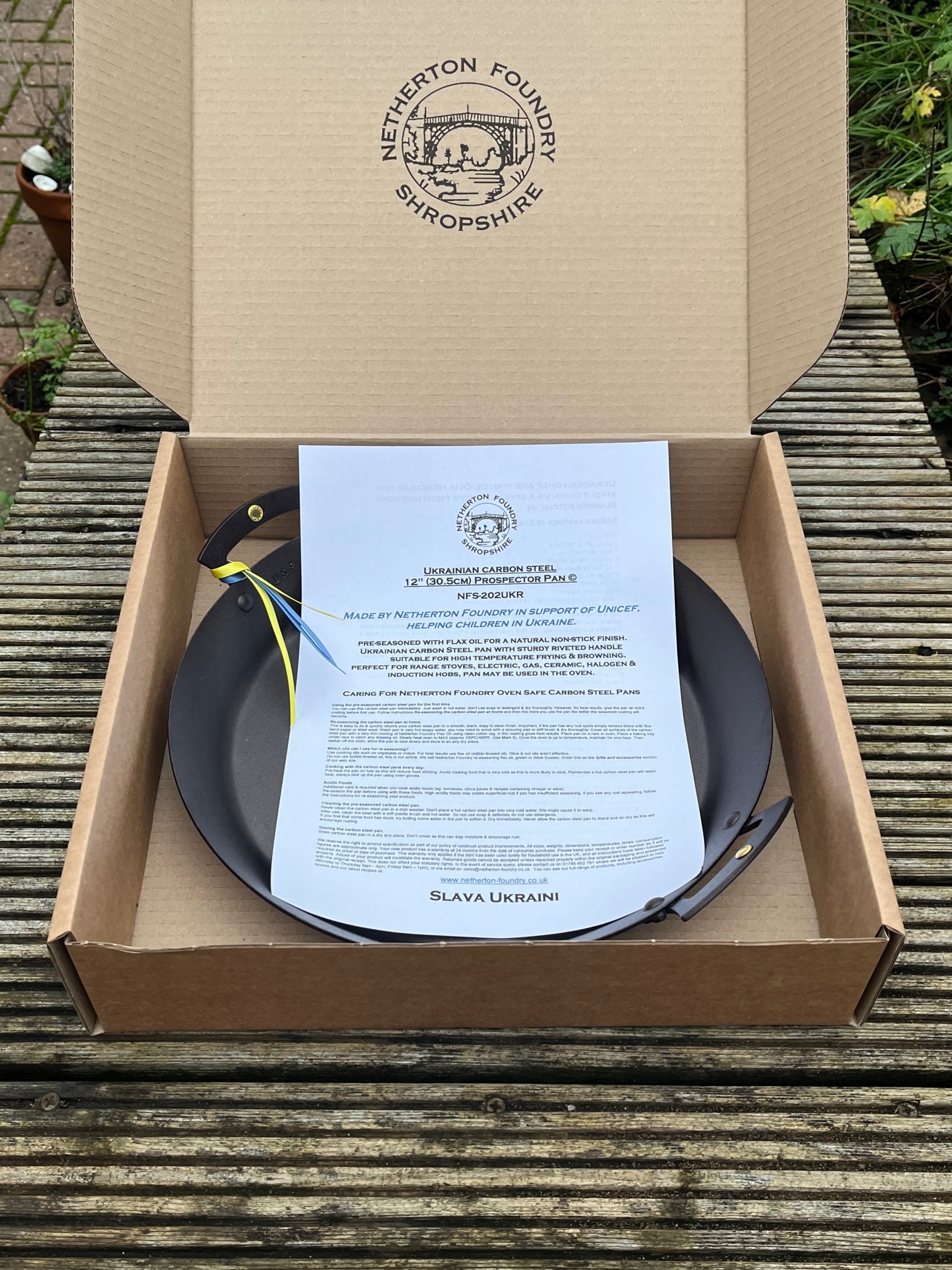 £10 of a 12" prospector pan made from Ukrainian steel (NFS-202UKR) will be donated to
Unicef UK
via
Work for Good
If you don't need a pan right now, you can still
donate here
.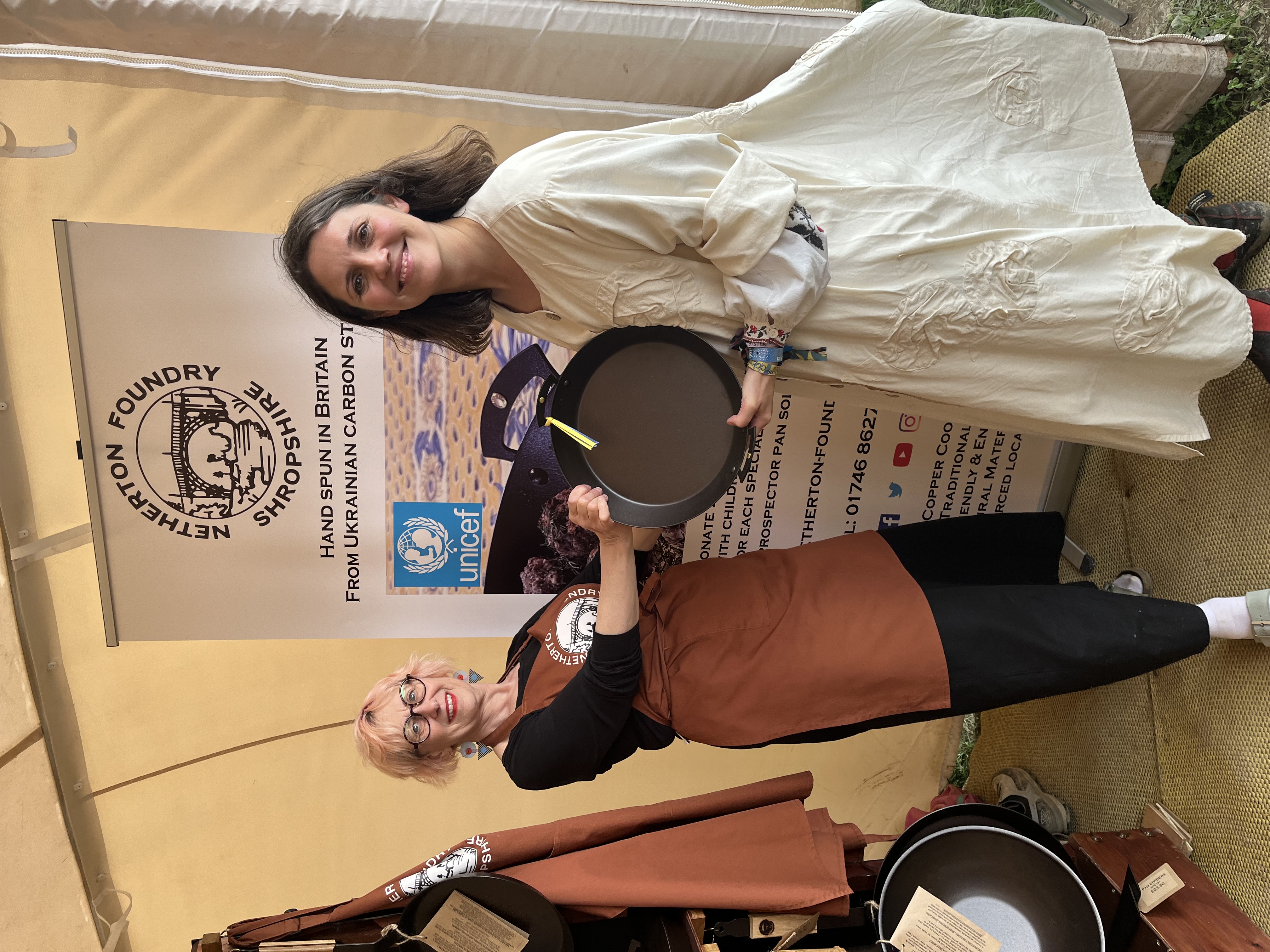 Where did we get the metal?
In normal times the Ukraine makes a lot of iron and steel, they know what they are doing!
We had help from friends in Poland and Belgium who found us a stock holding partner near Kyiv who had metal from a steel works and rolling mill under Ukrainian control.
They were happy to work with us, cut the steel and supply the European conformity certificates we need.
They have also assured us this isn't taking material they need for their defence.
The hardest part of this project was getting the metal to the UK!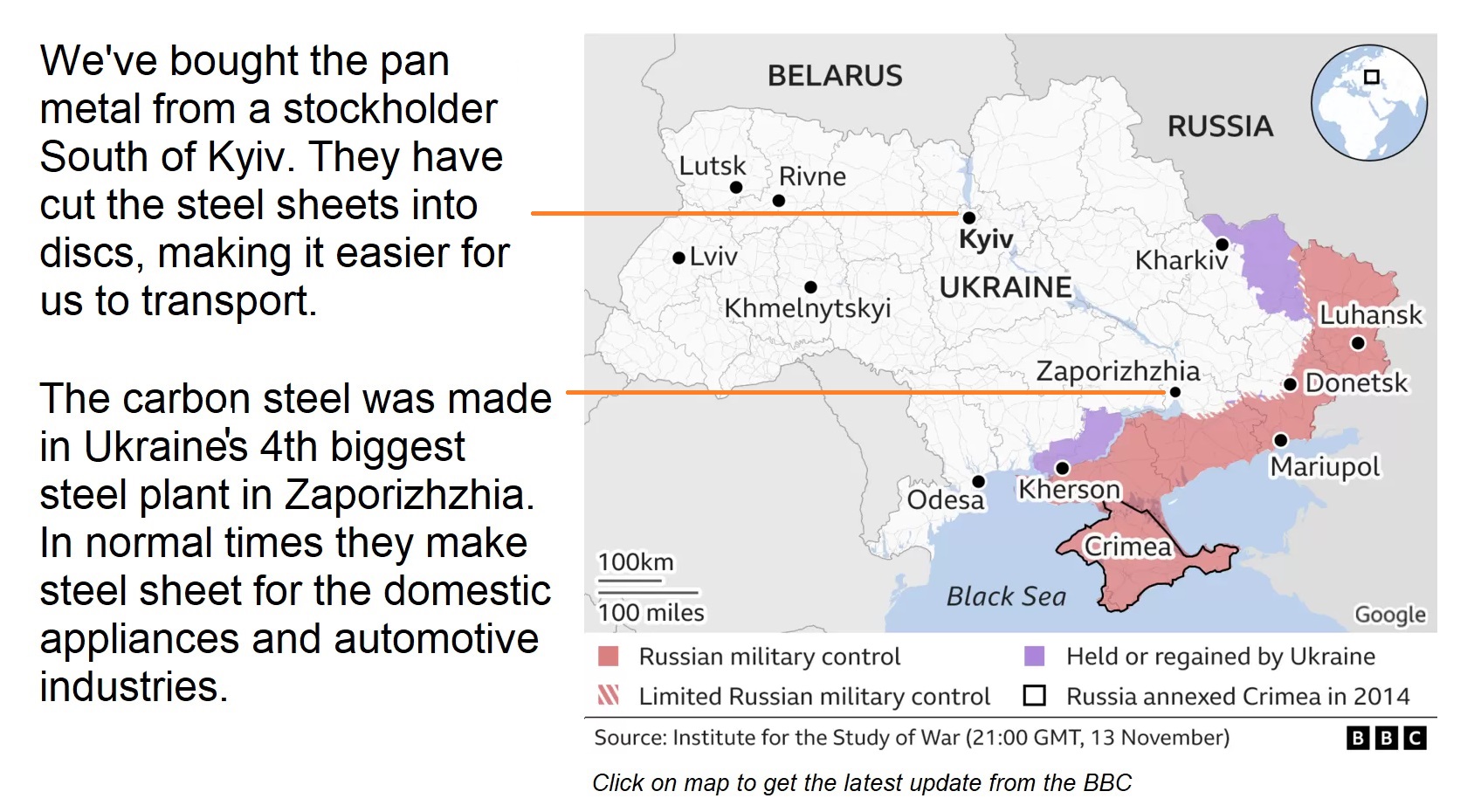 About the pan
Fry on the hob, brown under the grill, cook in the oven.
Pre-seasoned with flax oil for a natural non-stick finish.
Pan body made from 2mm thick Ukrainian carbon steel with sturdy riveted handles.
Highlighted with two Netherton brand brass rivets.
Suitable for high temperature frying & browning
Fry on the hob, brown under the grill, cook in the oven.
Versatile and very compact to store.
Perfect for range stoves, open fires, wood burning ovens, electric, gas, ceramic, halogen & induction hobs (Heat up slowly to keep flat).
Nothing better on induction. Heat up slowly at first, to keep pans flat, don't drop hot pans into cold water.
Dimensions:
Pan depth 1.75" (4.3cm). Base to top of handle 3" (7.5cm), Width across handles 13½" (34.0cm)
Weight 3lb 3oz (1.46 kg), Top rim diameter 12'' (30.0cm), Base diameter 10" (26.0cm),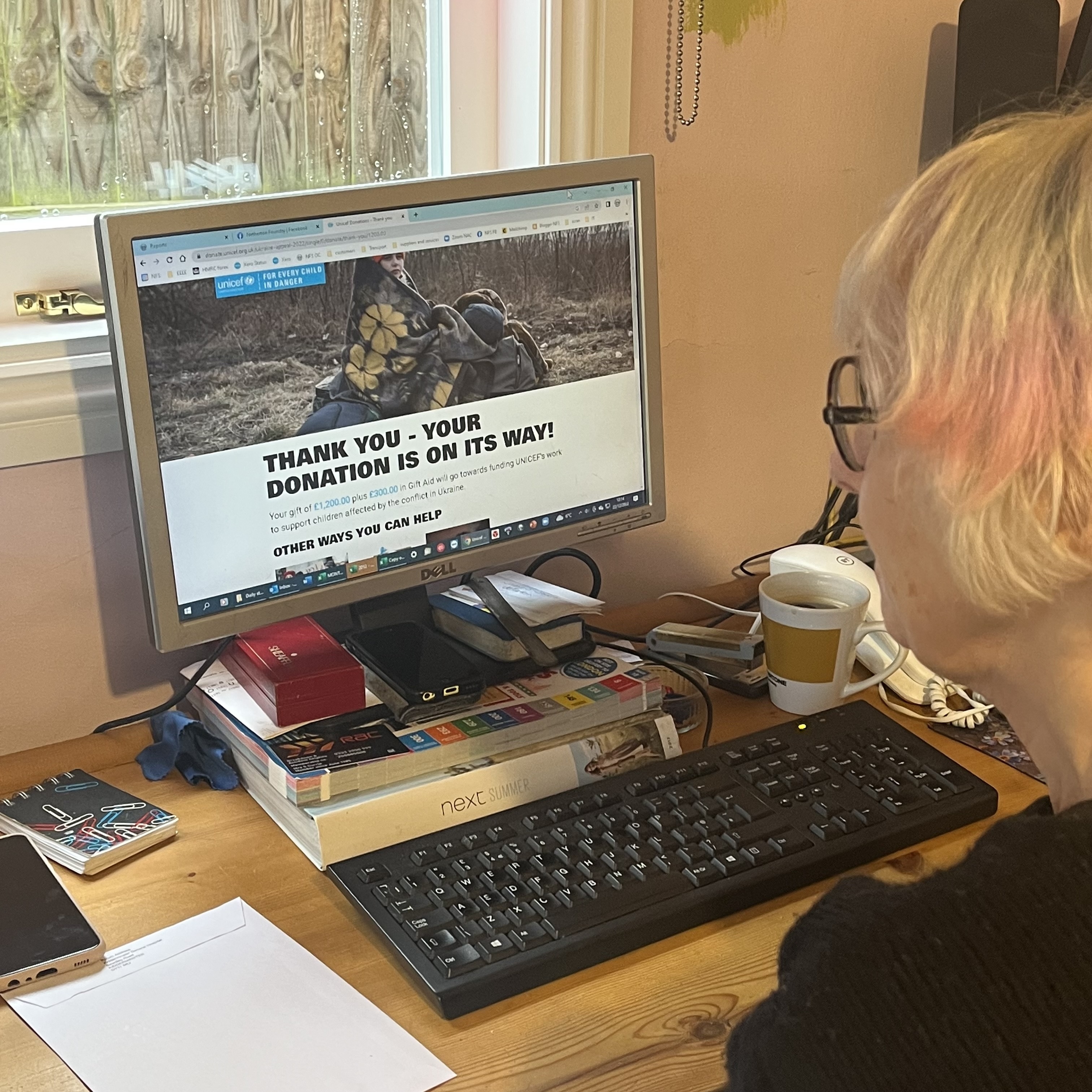 We transferred the cash from the first 100 pans to Unicef on 22nd of December 2022. We now have some more material so we will continue with this fund raising project during 2023, directly supporting Ukrainian children affected by the conflict.
Why choose a pre- seasoned pan ?
The edible Sussex flax oil coating is easy to wash & naturally non-stick.
It is ready for immediate use.
No chemicals or PTFE are used in the coating of the pan.
Coating can be simply restored at home, time after time.
Re-season your spun pans using the quick method:
A short video showing you how to give your frying pan or wok a quick freshen up.
What's special about OUR spun black iron (and carbon steel) pans?
Serious cooks and professional chefs love the way that black iron pans heat evenly and give great cooking performance.
The more you use your pan the better it gets as the seasoned patina develops.
A couple of handy tips:
If you are cooking meat or fish - oil the food, not the pan
Be patient; allow the food to cook before trying to turn it over.
Don't fry food straight from the fridge, allow it to come up to room temperature.
The pan bodies are spun by hand, so each one is slightly different. They will not all be as flat as a billiard table.
If you do want to keep it as flat as you can, then follow these simple guidelines.
Every time you use the pan, heat it SLOWLY to frying temperature, then you can use full power.

This is especially important if you are using powerful cooking hobs such as induction.
Use a hob the same size as the pan base, small rings WILL warp big pans.
Never drop a hot pan into cold water. This will buckle it.
If your pan has oak handles, the grain on every piece is unique and each one is branded by hand. They are like fingerprints, no two are identical.
Love your pan and follow our instructions for re-seasoning. Oven seasoning is kinder to the pan than hob top seasoning and it also give a nicer looking finish. We suggest that you only use hob top seasoning, if your oven is too small for your pan or you are re-seasoning your wok.
Your pan will develop with use and, if cared for, will age beautifully and be a friend for life.

Tags: Frying