Traditional Large 5 pint kettle with black ebonised oak handles *OUT OF STOCK*
Product Code: NFS-108AEB
Availability: Out Of Stock
Shropshire Made Large Traditional Kettle 3 litres / 5 pints with black ebonised oak handles
Out of stock, please book mark this page and check back to see when available.
NOTE: PHOTOS SHOW THE 3.5 PINT MODEL
Hand spun aluminium body and lid with durable hard anodised dark grey finish.
Precision made spout for perfect pouring.
The base of kettle is very thick ¼ inch (6mm), we machine grind this flat to ensure rapid boiling on range hobs.
Hand turned British oak handle & knob.
Lovingly hand made in Britain.
Ebonised wood
Ebonised hardwood furniture became popular in Europe in the late 1800's when it began to arrive from China. This black look was very fashionable in the Victorian age but fell out of favour in the 20th century. It has however recently been re-discovered as a durable natural finish. Not all ebonising is quite what it seems, some is just paint or dye used to colour the surface black. At Netherton Foundry we use the traditional method of soaking our oak in black tea to increase the wood's natural tannin content. Then we stain the oak in a solution of iron and traditional vinegar (iron acetate). This turns the oak a deep black colour. The process takes about a week to complete. We then coat the finished handles in our wax oil.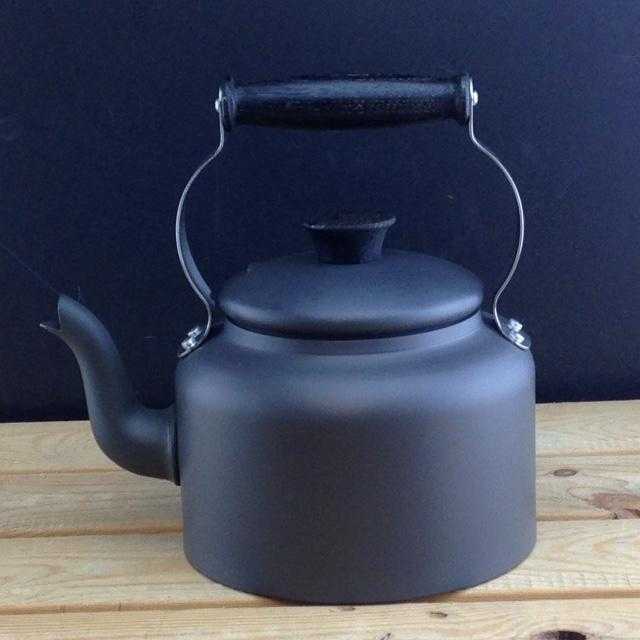 Dimensions.
Capacity: 3 litres / 5 pints. Base diameter: 19.7 cm / 7.75 Inches. Height from base to top of handle: 25.5cm / 10 inches. Weight: 1.3 kg / 2lbs 15oz
A stove top kettle for use on range stoves, electric, gas, ceramic and halogen hobs.
The perfect companion for country cottages, retro conversions, Victorian kitchens, Edwardian homes,
glamping and garden cooking (it complements Netherton Foundry garden hob).
The original cordless kettle.

Netherton Foundry, Shropshire, England. A family business crafting traditional cookware in Highley, Shropshire from iron, oak and copper,
using materials predominantly sourced in our own and neighbouring counties. Copyright 2021
Tags: Home